Articles included are:
Pilgrimage to Cuba Includes Rare Visit to Shrine
By Teresa Lantigua Peterson
The surprise came at 7:00 a.m. on March 26.
"I just found out we're going to the Shrine of Our Lady of Charity in El Cobre," said Bishop John Noonan at Miami International Airport.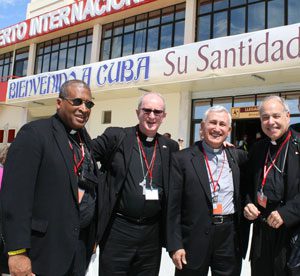 Noonan joined 300 Catholics on a pilgrimage to Cuba for Pope Benedict's apostolic visit to the communist nation, rarely visited by Americans. The original itinerary included participation in the celebration of a Papal Mass in Santiago and Havana but not a stop at the church in El Cobre where the original statute of Our Lady of Charity is displayed. The visit was added to an updated schedule and pilgrims found out shortly after their arrival at the airport.
Pictured left: Archbishop Patrick Pinder of the Bahamas, Bishop John Noonan, Father Silverio Di Fazio, Diocese of St. Augustine, Bishop Felipe Estevez, Diocese of St. Augustine are shown minutes after landing at the airport in Santiago, Cuba on March 26.
This year is the 400th jubilee of the discovery of our Lady of Charity by three fishermen in the waters off Cuba. In 1916 Pope Benedict XV declared her the patroness of Cuba and since then Cubans have honored her in many ways. The shrine in El Cobre sits at the top of a hill surrounded by mountain views. The town is named for the copper mines found within the mountains.
Modern buses carried the pilgrims to the top of the hill where they could honor Mary and ask for her intercession at the statue of Our Lady of Charity.
Rose Betz, parishioner of Holy Family, Orlando, was one of those pilgrims.
Pictured below: Rose Betz, parishioner of Holy Family Catholic Church, Orlando kneels before the original image of Our Lady of Charity, which is preserved at a beautiful shrine in El Cobre, Cuba.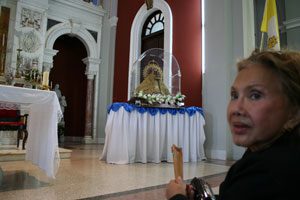 She has always had a great devotion to Mary, which started while growing up in the Philippines. She has traveled around the world to places that have a connection to the Blessed Mother. She has visited the home in Egypt where the Virgin Mary lived. She has traveled to Lourdes, France and even volunteers there each year.
When she found out about the pilgrimage to Cuba and that the visit would coincide with the jubilee year of Our Lady of Charity she was immediately interested.
However when she called to apply, the deadline has passed. She prayed at the adoration chapel at Holy Family and asked for Mary's intercession and asked God for His will to be done.
A short time later, she received the call that there was a cancellation and she could apply for the pilgrimage.
"I love the Blessed Mother so much," said Betz who wears a medal of the Mother of Perpetual Help around her neck. "She is always there for me and she helps me."
In Santiago, pilgrims from Orlando joined hundreds of thousands people gathered in Santiago for the Papal Mass. Bishop Noonan and Orlando priest Father Alfredo Ortiz, pastor of St. Rose of Lima, concelebrated the Mass.
Pictured below: Bishop John Noonan processes into the Havana Cathedral at the start of Mass on March 27. He concelebrated the mass with Archbishop Thomas Wenski and other bishops and priests, including Father Alfredo Ortiz, pastor, St. Rose of Lima Parish who was one of the pilgrims.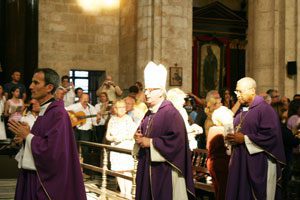 "It's emotional when you see people going back to Cuba for the first time and hear their stories. This is not an ordinary event," said Bishop Noonan.
After the Papal Mass the pilgrims gathered at the airport waiting for a flight to Havana where they would spend the next three days.
Bishop Noonan said March 26 was a most special day for many reasons.
"We celebrated the the Annunciation, we visited El Cobre and the Holy Father was with us," said Bishop Noonan. "A lot of people have never been given the special privilege to see the shrine and we were there and the people were so happy," added Bishop Noonan.
Cuban returns to homeland after 50 years
By Teresa Lantigua Peterson
When Andy Hernandez left Cuba in 1960 he never thought of going back to the island nation. However at a special event in January, Bishop Noonan told Hernandez about a pilgrimage to Cuba for the papal visit and Hernandez wanted to know one thing.
"Can I go?" Hernandez recalls.
Pictured below: Andy Hernandez waits for the start of papal Mass in Santiago Cuba on March 26.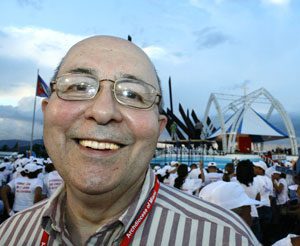 Hernandez, parishioner of Church of the Resurrection, Lakeland, filled out all the appropriate paperwork and he joined the 300 pilgrims who left Miami International Airport on March 26.
"It is God's will that I go to Cuba. It's very emotional for me that I am going back to Cuba," said Hernandez.
The pilgrims toured Santiago and Havana and had opportunities for prayer during visits to the Shrine of Our Lady of Charity, two Papal Masses, and Mass at the Havana Cathedral.
For many years religious communities were not welcome in Cuba and it's encouraging for Hernandez to see signs of change.
"It's wonderful to see the pope going to Cuba trying to bring peace, freedom for the Cuban people and to help release the prisoners, basically continue what Pope John Paul II started," said Hernandez.
During the papal Mass in Santiago, Hernandez, 70, stood in the front row behind a reserved section for VIPs and special guests. He was surrounded by hundreds of thousands of other people and while being in the hot tropical sun for hours waiting for the arrival of the pope was sometimes difficult, he is glad for the opportunity to have been part of this experience.
"I am glad I went," said Hernandez.
Also attending the pilgrimage form Orlando were a father and son duo, parishioners of St. James Cathedral. Bob Blaydes, 49 and his son Ryan, 20 saw an article in the Florida Catholic about the pilgrimage and decided it would be a fascinating opportunity and a chance to grow in faith.
Bob grew up a Methodist but he joined the Catholic Church in 1997. He called that experience one of the "greatest experiences of his life." He serves as an Extraordinary Minister of Holy Communion. Ryan is a student at University of Florida.
"To go somewhere typically you're forbidden to go and be part of a papal visit is extraordinary in and of itself," said Bob Blaydes.
Pilgrimage to Cuba teaches me to cherish my faith
By Teresa Lantigua Peterson
When Bishop John Noonan and I discussed the pilgrimage to Cuba I thought of the many compelling stories I could write about this unique opportunity. I also thought about what it would mean to me personally since I was born in Cuba.
My family left in 1967 after the communist revolution. We were part of the freedom flights to the U.S. and I was only a year old when my family left everything behind except for the contents of a suitcase. Nothing of financial value was allowed to leave with us but we did bring some items of sentimental value.
As this pilgrimage was planned to visit religious sites and participate in the celebration of Mass with Pope Benedict XVI, I expected this would be an experience of faith but did not know exactly how my faith would be impacted until March 28.
Pictured below: Teresa Lantigua Peterson, Director of Communications of the Diocese of Orlando.
During a few hours of free time on that day, I boarded a taxi to visit the Church of Jesus in Miramar, a suburb in Havana. The church is located on Fifth Avenue just one block from the house where my mother was raised. I had heard stories about this church's magnificent beauty but words cannot come close to describing what I saw.
But I will try anyway.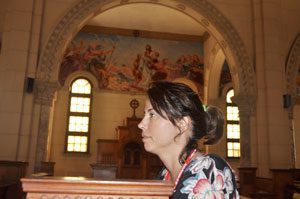 I saw giant fresco paintings depicting the Stations of the Cross in vivid detail along the walls. I saw rows of arches that framed the sanctuary, windows, and entryways; I saw a statue of St. Ann holding Mary as an infant atop a marble pedestal surrounded by golden rays and alcoves where vivid paintings of Jesus and statues of familiar saints beckoned you to prayer and reflection. However, despite this awesome beauty, only two other people were inside the church and it looked more like a museum than a living community of faith.
Outside, the parking lot was empty. The exterior walls were weathered by the elements and showed many years of neglect as did the property grounds. It looked abandoned. It many ways it had been.
Shortly after the revolution in 1959, the Catholic Church and all religion was prohibited. Catholic schools were nationalized and many churches were closed. Those who believed in God and wanted to freely express that faith were denied this opportunity.
Having seen what can happen when there is no freedom to live our faith without fear I have a renewed desire to not only live my faith but cherish my faith.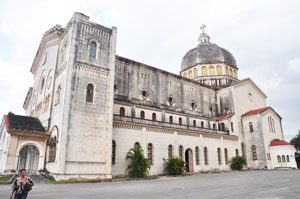 As I walked out of the church I noticed a small fire by the curb. It looked like a clump of ashes and burning cardboard. I found a church official and informed him of this and he explained that a few young men had been outside the church earlier and must have been the ones responsible. Seemingly at a loss for what to do next, I handed him a water bottle from my purse and he doused the flames and the fire was gone.
The church survived the difficulty of this day. With God's help and with the faith of all of us, the Church in Cuba will strengthen, survive and perhaps one day thrive again.
Note: For a complete coverage of the Papal Visit to Cuba, read about it in The Florida Catholic April 6, 2012 edition.