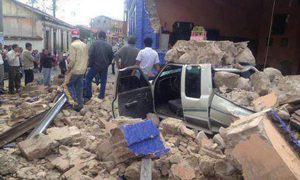 Picture courtesy of the Associated Press – Guatemala quake – witnesses reported seeing people buried in some of the 30 houses that collapsed in the town of San Marcos, near Mexico. Photograph: EPA
Given below is the text of a telegram sent by the Holy Father to Bishop Rodolfo Valenzuela Nunez of Vera Paz, president of the Episcopal Conference of Guatemala, for the recent earthquake there which has caused dozens of deaths and left hundreds injured throughout the country:
"Deeply saddened to hear the painful news of the earthquake which has left many dead and injured, as well as immeasurable material damage in your beloved country, I wish to express my spiritual closeness to all citizens. I offer fervent prayers for the eternal repose of the victims and pray to the Almighty that He may grant consolation to those affected by this terrible disaster, and inspire in everyone sentiments of fraternal solidarity to face this adversity.
"I also earnestly encourage the Christian communities, civil institutions and men and women of goodwill to lend their assistance to the victims, with generosity of spirit and willing charity".
Catholic Relief Services: Earthquake in Guatamala Please join us in praying for those affected by this earthquake. For more information, click here for a story by Catholic Relief Services.