Pray with our Blessed Mother Mary… As we draw closer to the month of the Rosary, renew your appreciation of and devotion to Mary, model of the Church. The experience of reflecting on Scripture, praying together, and sharing in a supportive small community is one of the most effective ways to deepen your faith, and connect faith to life. We recommend these resources: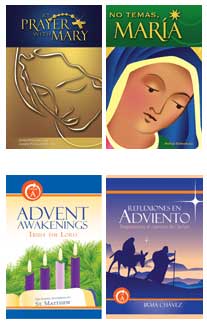 At Prayer with Mary and No Temas, Maria. By faith, Mary said "Yes" to all that was asked of her. Mary's faithfulness is a model of the prayerful kind of life Jesus calls us to. Scripture, Catholic teaching, personal testimonies provide a renewed appreciation of Mary's place in today's world. Great for October, the month of the Rosary! Only $7.95 each.
Advent Awakenings and Reflexiones en Adviento. Stay focused on the significance of this sacred season with this faith-sharing experience grounded in the Sunday Gospel readings of Advent. With family prayers and blessings for the season. Only $7.95 each.
Any questions? Call Lynn at 1-888-433-3221 ext. 106 to find out ways RENEW International can assist you with individual and small community resources.