EDGEWATER | Elsie Ragusin Azzinaro stands less than 5 feet tall at age 97, exuding her zest for life with a broad, generous smile as she offers her guest some pastry and coffee. Beneath her genuine joy are wounds inflicted by the Holocaust and a profound, pervasive faith that thrusts her forward with tenacity. During the unthinkable tragedy, it was a discarded prayer book that sustained her hope. Today, it is weekly reception of the Holy Eucharist brought to her by Jan Ford, a Minister to the Sick. The two share the fruits of the Sacrament, a relationship of common, although different experiences of loss, love, and an attentive heart.
Ford is the coordinator for the Eucharistic Ministers and Ministers to the Sick and Homebound through St. Gerard Mission in Edgewater. Six months ago, Azzinaro, who attended Sacred Heart Parish in New Smyrna, requested that someone bring weekly Eucharist because her mobility became limited. Ford answered the call. She listens to Azzinaro, prays with her and shares Christ's body, broken so that ours may be made whole. Ford says visiting Azzinaro has enriched her life. "For all that she has gone through, to see her smile and laugh and focus on the positive is very inspirational to me. It put things into perspective."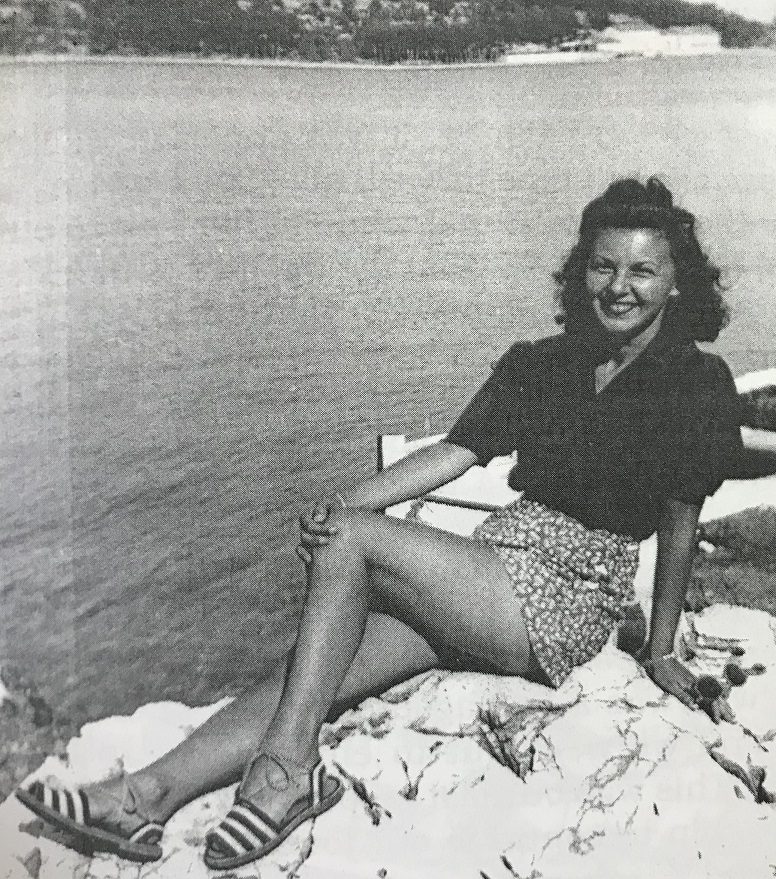 More than 70 years have passed since Azzinaro, a young American citizen of Italian heritage, spent more than a year in the concentration camps at Auschwitz-Birkenau (Poland) and Ravensbruck (Germany). Recalling memories of her imprisonment is difficult. She strives to be clear. It is important to get the story right.
She and her father, Giovanni Ragusin, were taken by Nazi officers while living in northern Italy under a false claim of American espionage. The family moved there from the United States to take care of ailing grandparents, prior to World War II. Four prisons later, the two were separated in Trieste. Catching sight of one another as they awaited to board different trains, they ran toward each other and tearfully embraced before abruptly being torn apart. That was the last time Azzinaro saw her father. His train headed to Buchenwald Camp where he perished.
Azzinaro was 23 in 1944 and engaged to Toni Rocchi when the ordeal began. Rocchi, a naval lieutenant, would be mortally wounded in the war. Nine months after arriving in Auschwitz, "Things were getting pretty bad. It showed me that we may not be coming out from there," said Azzinaro. "I thought, if I go, at least I want to have God with me and my faith. I said to myself, I want to live. I saw people dying and I saw the torture. I thought, I can't let that happen to me. I prayed to God to save me, to get me away from there… And that's when I thought, I want to pray.
"I asked Hanka (the guard in charge of discarding new arrival's personal possessions), 'Find me a book and I'll give you or whoever finds it, my portion of bread.'" This meant giving up the only food she would receive that day, besides a mixture of beans and water that passed for coffee. Within several days, Hanka found "Massime Eterne", a small Italian prayer book. "The pages were ripped so it wasn't perfect, but I didn't care," recalled Azzinaro. "It was something for me to pray with."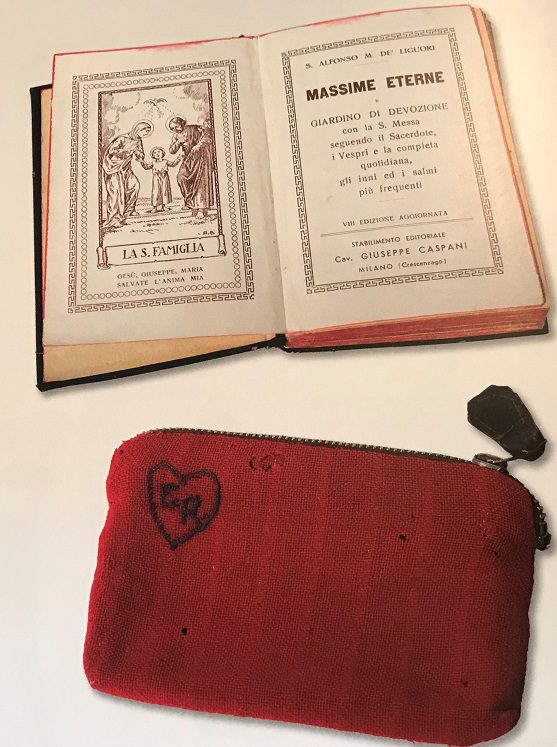 She found a small pouch covered in maggots. She cleaned it and put her prayer book inside, making it easier to hide in her mismatched shoes. She prayed whenever she could, keeping her treasure concealed knowing its revelation could mean her demise. With a borrowed pen, she would draw on scraps of paper under the waning day's light— pictures of the Virgin Mary and the lamb, images she saw in her prayer book. This was her experience of faith in the camps.
Often, she admits feeling God was not listening. "But He saved me many times," she quickly asserted. "There were a lot of incidents that happened and I thought, how did I get through that? How did I get saved? And I felt He was with me. I talked to Him when they asked us to put our hands out (for inspection). I would tell Him, 'What are they looking for? Please God, don't let them take me. Don't let them see something that they want.'"
She recalled digging holes in the woods. One night, after returning to the camp, she discovered their purpose. Once the holes were deep enough, the prisoners would be shot and buried there. Lined up the next morning for job selection, she was not chosen for digging. "I prayed. Please don't let me be picked for that. I felt God saved me… I know that He saved me many times."
The prayer book "enlightened me. It gave me courage and strength to survive and make due for another day," said Azzinaro. Her daily prayer, "Help me survive another day." The book and her small sketches provided courage to endure experimentation in both camps under Nazi physician, Dr. Josef Mengele, infamous for torturing camp prisoners to satisfy his own curiosities. A physical beating left Azzinaro deaf in one ear. Although concerned her experiences would leave her barren, she did marry after the war and gave birth to her son, Ronald.
She missed Mass and singing in the choir, but her prayer book and thoughts of reuniting with her family kept her moving forward. At last, in April of 1945, liberation came via the Swedish Red Cross. At first, Azzinaro was scared to board the bus that would lead her to freedom. Coaxed by packages of chocolates and kind reassurances, she made her way to the first seat, and later reunited with her loved ones.
Azzinaro spent most of the rest of her life trying to forget what had happened to her and her father until 2006 when a local newspaper article spoke of a Holocaust denier. Shocked, she felt compelled to tell her story, for her father and all who suffered the epic terror of the camps, in the book "An American in Auschwitz".
Looking back, Azzinaro is thankful for Jesus' pervasive presence through a small prayer book as she endured the most horrific of times. Seeing the current suffering and oppression in the world, she notes it is important to "Keep your faith and be strong. That saved me—my intuition and my faith and not giving in to what somebody might say," she said. "Pray and ask God to help you go through it and you will survive."
These days, Ford says Azzinaro "talks about helping others and how she was helped while she was in the camp. It reminds me that I don't have it so bad." Azzinaro appreciates Ford and the weekly Eucharist she brings. Jesus is still the much needed respite and balm for her soul. Smiling broadly as her gentle eyes meet Ford's, she says, "When Jan comes with the Eucharist, I feel good about it. It makes me feel better."
By Glenda Meekins of the Florida Catholic – January 19, 2019