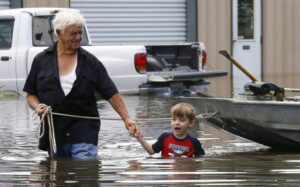 From Catholic Rural Life
After the official announcement of a major flooding disaster for Louisiana, Catholic churches in the Baton Rouge diocese called for volunteers to help those displaced by extreme flooding and asked flood victims what assistance they needed.
In California, wildfires are forcing the evacuation of thousands of families from their homes. Climate researchers see this as part of a dire global warming-fueled trend towards larger, more frequent and intense wildfires.
Loving Creator, we pray for those who have been affected by recent climate disasters: the floods that ravaged Louisiana and the wildfires rampant throughout California. We pray for all those around the world who suffer from floods, droughts and climate disruptions. Break open our hearts to allow the pain and suffering of our brothers and sisters to move us to bold, prophetic action for all peoples and all generations. Amen.
Mercy in Motion
Catholic Charities USA is providing critical disaster services to those affected by the flooding in Louisiana. You can offer hope and help to families in need by making a donation here.