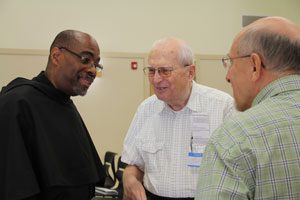 Jim DiBase, a parishioner of Holy Family Catholic Church in Orlando, was seeking a way to deepen his faith and prayer life when he attended the workshop "Prayer and Faith in the Senior Years" at San Pedro Spiritual Development Center on Oct. 10. He came away from the talk with a new understanding of faith.
"Father talked about prayer, work and study," DiBase said. "As older adults, we need to broaden our minds and be open to everything God has in mind for us. We need to share our experiences."
The talk was part of Senior Day at San Pedro and was presented by Third Order Regular Franciscan Father Anthony Aarons. About 40 seniors attended the day-long event.
Father Aarons, T.O.R. (pictured left) said whether we are 20 or 70 years old, we are called to live a life of faith, steeped in prayer. The only thing that may change in our later years is the context in which we live this faith.
"Prayer and faith in the senior years is prayer and faith in the present years," Father Aarons said. "How do we live that faith? We live that faith in the same way all Christians are called to live that faith."
He said there are three elements in building a strong faith life no matter one's age – prayer, work and study.
Father Aarons urged the men and women to not only make time for personal prayer, whether it be a moment between them and God, or praying the rosary or the Liturgy of the Hours, but also to come together in community to celebrate the Eucharist.
He also said they can build their faith by doing God's work, which may be as simple as making a newcomer feel welcome at church or caring for their grandchildren and teaching them about their faith.
"Work is anything that we do to benefit another person," Father Aarons said. "St. Peter said that we should always be ready to give. The only proof that we have of our good relationship with God is how good that relationship is with our brothers and sisters."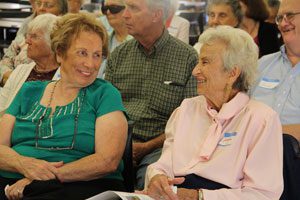 Lastly, Father Aarons recommended that all Catholics continually learn about their faith by reading the Scriptures, as well as studying the latest encyclicals from Pope Francis and the writings of the bishops and other leaders in the Catholic faith.
"Your life of faith and prayer is a life that should be Eucharistic," he said, adding that like the Eucharist, it should be taken, blessed, broken and shared.
"One of the greatest gifts that God gives us is the gift of faith," Father Aarons continued. "Faith is given to us at our baptism so that we can truly believe and know that we are the sons and daughters of God. We cannot give what we do not have."
In turn, we must give ourselves to God and receive his blessings, which lead to an increase in what we have to offer others. Father Aarons likened our faith to the five loaves and fish, in that it needed to be broken and shared.
"We are taken, we are blessed and we are broken. Then we share," Father Aarons said. "We give ourselves to God and we give ourselves to others. That is why after Mass we can go in peace, glorifying the Lord by our life. That is the life of faith and prayer."