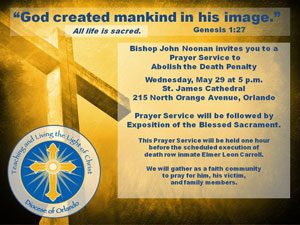 Bishop John Noonan invites the community to a Prayer Service to pray for the abolishment of the death penalty. The Prayer Service will be held one hour before the scheduled execution of death row inmate Elmer Leon Carroll. Governor Rick Scott has signed a death warrant for Elmer Leon Carroll, who was convicted in the 1990 rape and murder of a 10-year-old girl in Orange County.
The Prayer Service will be held on Wednesday, May 29 at 5:00 p.m. at St. James Cathedral in downtown Orlando. It will be followed by Exposition of the Blessed Sacrament.
Click here for the flyer.
Free parking is available on the northwest corner of East Robinson Street and North Orange Avenue, across from St. James Cathedral.
Catholics believe that all people are made in the image and likeness of God, even those who have done great harm. We affirm the dignity of every person, both victims and offenders. We acknowledge the pain of the victims' families and we pray they have received comfort and healing in their time of need.
The Catholic Bishops of Florida continue to reject state sanctioned killing and have asked the State of Florida to join the growing number of states who have rejected execution and enacted the option of life in prison without possibility for parole.
Join us to pray for the victims of violent crimes and their grief stricken family members and for Elmer Leon Carroll and those who are to be executed because of the death penalty.