More than 80 people gathered on the steps of the Volusia County Courthouse on Jan. 22, the anniversary of the Supreme Court ruling on Roe v. Wade, to pray for the unborn and for a reversal of the devastating decision which has ended the lives of an estimated 58 million babies due to abortion since 1973. This is the 33rd year that St. Peter Parish in Deland organized the prayer vigil.
Steps were lined with baby shoes representing the unborn and candles symbolizing the light of the world. Mary Lou Mirino, leader of St. Peter's Respect Life Ministry for the past 10 years has attended every year since its inception. She said she attends, "So no one forgets." "It is so sad that with all the scientific breakthroughs we have, people are brain numb," she said. "It shows how intellectually void we are."
The vigil began with an opening prayer by St. Peter pastor Father Tom Connery and a message of hope and courage given by Pastor D.J. Crane of Faith Community Church in Debary. Then, more than 30 minutes of spontaneous prayers were offered by those gathered from various Christian denominations.
Pastor Louie Patille from Praise Chapel in Deland was so moved that he borrowed a guitar and led the group in singing, "This is Holy Ground." St. Peter parishioner Doris Romero-Estavillo sang "Take My Hand", a pro-life song she wrote in 2009, moving many in the crowd to tears.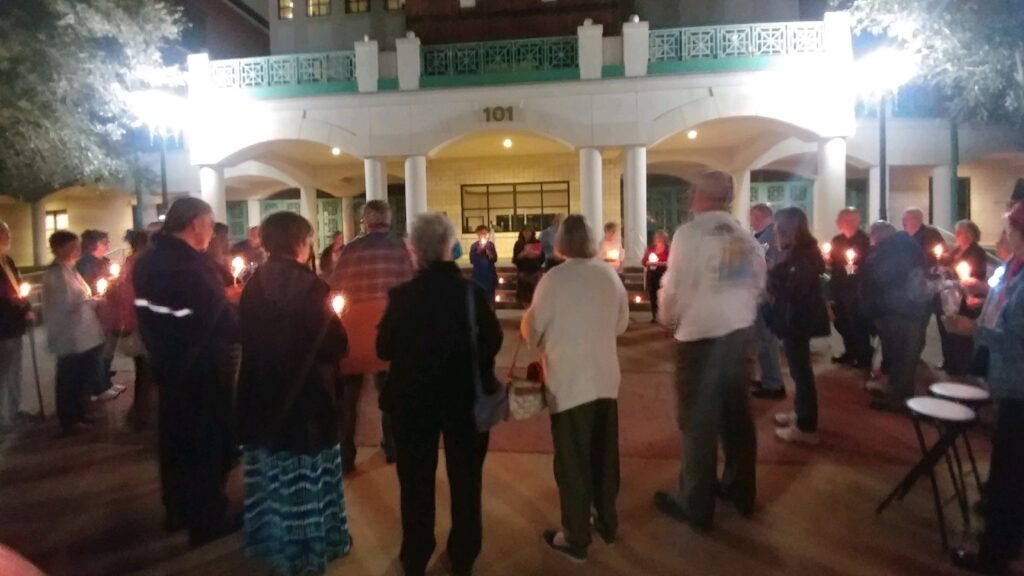 Mirino recalled many commenting that the Spirit was present. "It was very emotional," she said. "Every year I say that I hope we will be here again next year celebrating a victory and the reversal of Roe v. Wade."
By Glenda Meekins of the Florida Catholic – January 23, 2018