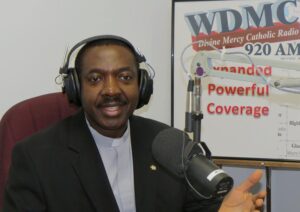 When Father Emmanuel Akalue was assigned to St. James Cathedral in Orlando in 2006 he would travel to Melbourne once a month to teach Scripture to a small faith group. He was transferred to Our Lady of Grace Parish in Palm Bay in 2012. As his commute became shorter the number of people he would reach with his teaching grew much larger.
It happened that one night in October, the small faith group also invited Divine Mercy Catholic Radio producer Bob Groppe to their meeting. "It was Divine Providence," said Father Akalue.
"When I was answering the questions on Scripture and the teachings of the Church, he was very impressed. So he approached me and said, 'This is good stuff. It should be on radio.'
Groppe concurred, "It was apparent that Father had a very engaging presence. Combined with his knowledge and desire to communicate the Catholic faith to an extended audience, it was decided to allocate an hour each Sunday for a program featuring Father Emmanuel."
With his characteristic joy, Father Akalue addresses the "beloved listeners" of his show, "New Evangelization: Catholic Apologetics" which covers a broad range of topics including: the deposit of faith, the Bible and Tradition, the Trinity, indulgences, family life, the Sacraments and Mary.  The radio format allows him to reach 10,000 to 15,000 listeners with a message of God's unconditional love for humanity during this Year of Mercy and to teach a wide audience of Catholics how to defend their faith.
"We want to teach Catholics how to use the Scripture to explain their faith," said Father Akalue. "That is the main goal. When people see you on the road and ask about your faith…they ask you if it is in the Bible. This radio ministry is directed at helping tackle those challenges."
In addition to the Bible, Father Akalue also references the Catechism of the Catholic Church, papal encyclicals and Apostolic Exhortations to equip the faithful to explain the teachings of the Church.
He added, "We do it in a pro-active ways. Trying to show Catholics how not to be only on the defensive but also to know they can pose questions to Evangelicals and Protestants. We should be asking them,' Why don't you honor Mary? Why don't you go to the Eucharist? Why don't you pray the rosary?'
"That is why I call this "New Evangelization: Catholic Apologetics", because it is a new method, not to be on the defense only, but also to be on the proactive side of asking questions."
According to Groppe, "Issues are often addressed in terms of how non-Catholics might view them, as well as how believing Catholics can best respond to the various misconceptions and misunderstandings of non-Catholics."
Since his first series on "The Mystery of the Church" Father Akalue has broadcast over 170 episodes. Groppe recalled the positive response from listeners from the very beginning. "The feedback we got from listeners was most encouraging," said Groppe. "It included statements like: "I've never heard a priest pray like that. I was driving and pulled over to the side of the road to listen."
Listeners can hear Father Akalue live at 2 p.m. on Sundays by visiting www.divinemercyradio.com and selecting "Listen Live Online" or in Brevard County by tuning into 920 AM. Podcasts of the show are also available on the station's website.
The mission of Divine Mercy Radio is to proclaim the Good News of Jesus Christ, and to communicate His truths, as found in Sacred Scripture and Tradition, and in the magisterial teachings of the Roman Catholic Church.