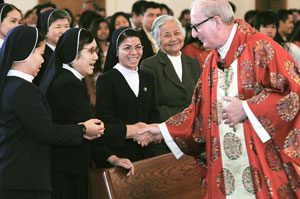 As she looks at the faces of the young Vietnamese boys and girls she is teaching at Hillcrest Elementary School, Incarnatio-Consecration Mission (ICM) Sister Marie Nguyen feels blessed to be serving God in an extraordinary way through her work in the secular world. Sister Nguyen is one of eight religious sisters within the Diocese of Orlando who has dedicated her life to the love and service of others as part of the ICM religious community. Pictured: Bishop Noonan greets the sisters.
Founded in 1949 in North Vietnam by Father Michael Viet Anh, the charism of the ICM community is to send men and women into the world to live among the poor, and being an incarnation of Jesus, serve God's people as their talents allow. For most brothers and sisters of the community today, this means working in the secular world in addition to their parishes.
Sister Nguyen said Father Viet Anh's vision was a revolutionary concept of the times as the Asian country was steeped in rich religious traditions where sisters lived in big communities and wore habits. In addition, Sister Nguyen said many religious communities center on a single charism, such as teaching or medicine but the ICM sisters pursue a variety of fields, depending on their individual talents.
"Our charism is to serve others, especially the poor, in our own capacity and to imitate Christ," Sister Nguyen said. "We want to reach everyone. We are a multi-faceted ministry."
Caught in the midst of the Vietnam War, the ICM congregation followed the North Vietnamese refugees to South Vietnam when communists took over their native land. In 1975, Father Viet Anh and some of the religious would once again follow Vietnamese refugees, this time moving to the United States and settling in New Orleans. Shortly thereafter, the community established a second mother house in Baton Rouge.
Today, a majority of the congregation still minister in Vietnam; however, small groups of religious men and women serve in Baton Rouge, Houston and Orlando. The ICM sisters came to Orlando in 1989, serving primarily at St. Philip Phan Vah Minh Catholic Church in Orlando. Ironically, they all have settled in traditional ministries, working in schools and hospitals and ministering in the church.
Reflecting on her own discernment, Sister Nguyen encourages young women to pray and listen for God's call.
"If we look deep into our hearts, we will see what we want is for our happiness and others happiness," she said. "Look deep down in your desires and if you find that you want true happiness in serving God and others, then God may be calling you to religious life."