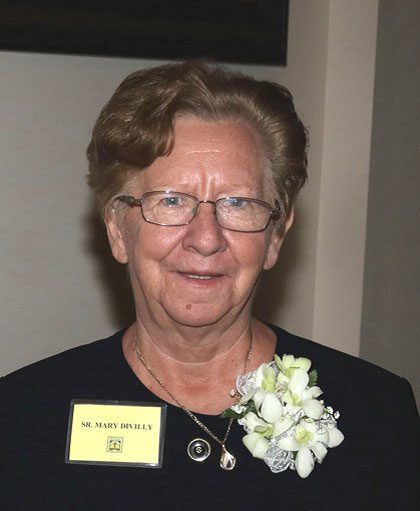 Sister of Mercy Mary Divilly, a founding member of Merritt Island's Divine Mercy Parish and one of the first teachers in its school, died Friday, January 27, in Co. Galway Ireland. She was 74 years old.
Sister Divilly came to Florida from Ireland in 1964 with three other sisters to teach at the newly opened Divine Mercy School. At first, she taught in a small aircraft hangar until the school building was completed in 1966.
"There was a time when she was principal in the morning and taught kindergarten in the afternoon and vice versa," said interim school principal Julie Harris. "She is the heart and soul of the school. We exist because of her. She built the school from the ground up."
Sister Divilly was a "hand-grabber", Harris said. When she spoke to you she would grab your hand. "I felt such a presence with her. There was something in that hand squeeze. She was looking at me and listening to me," Harris said.  The steely, determined nun went with the flow but was not afraid to stand up for the right thing. "She knew her own mind and stood by her convictions." But she wasn't an attention-seeker, Harris said. "She was quietly wonderful."
Always quick to tell a joke, see the humor in just about any situation and awesome at jump rope, Sister Divilly also taught second grade for a number of years. She worked hard and played with her students.
"She had a loving teaching style," remembered Harris. "Her expectations and standards were high, and she was loving and respectful of all of her students. They wanted to please her and make her proud of them. That was definitely her gift with the little ones."
Although she loved all of her students, "I think she loved the naughty ones more," Harris said.
After retiring from the classroom, Sister Divilly was Divine Mercy parish's administrative assistant for 12 years.
"Sister Mary was the glue that held the parish together. She was always present and available, and always with a smile," said Father Michael Farrell, retired pastor of Divine Mercy who knew Sister Divilly for 46 years. She also could accept everyone as they were. "That is a gift," he added.
In her parish role, Sister Divilly worked with, among many others, the homebound and the elderly.
"She had a tremendous memory. She remembered things from 50 years ago. She met people and had a great way of remembering them and being at home with them," Father Farrell said.
Sister Divilly retired from the parish in April 2016. She moved back home to Ireland to be closer to her family, said Father Ferrell.
"I was her good friend and she was my good friend, too," Father Farrell said. "I will miss her."