"By the names of the buildings, we are reminded that this gathering space is holy," said Bishop John Noonan at the rededication of three renovated buildings at San Pedro Spiritual Development Center in Winter Park. St. Augustine, St. John the Apostle and St. Thomas Aquinas buildings were blessed once again, ushering in a new era for the center.  Formerly identified by numbers, these re-dedicated buildings manifest how the saints' faith comes alive at San Pedro Spiritual Development Center.
Originally built in 1960, with several later additions, San Pedro was designed as a summer youth camp. An advertisement read, "The aim of Camp San Pedro is not only to provide wholesome outdoor life, but at the same time, to assist in the true formation… Each camper begins and ends his/her day in the presence of God…" Later it grew into a retreat center for those of all ages. Opportunities to encounter Christ abound whether one is praying in the Mary, Mother of God Chapel, walking through the woods or meandering through the labyrinth.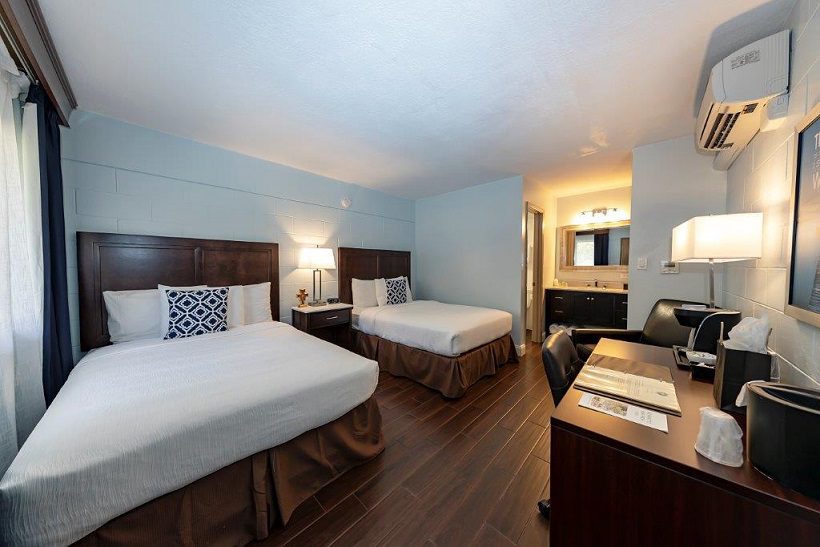 Thanks to funds from Alive in Christ, the most recent renovation included an updated look in the St. William the Great (building 400) bedrooms with new drapes, tile flooring, furniture, remodeled showers and bathroom vanities. The St. Augustine meeting space (building 100) received fresh paint and lighting, new carpet, removal of the kitchen and added an internal bathroom, all thanks to a donation from Bishop Moore Catholic High School in Orlando.
Precipitated by a fire last March, St. John the Apostle Conference room (building 300), lobby and bathrooms received new paint, flooring, furniture, and fixtures. A new space has been created there dedicated to a new museum where diocesan archives will be displayed.
Ten bedrooms and a meeting space in St. Joseph the Worker (building 600) and St. Thomas Aquinas (building 500) were re-done. Two empty spaces previously used for storage in St. Thomas the Apostle (building 200) and St. William the Great buildings were converted to guest lounges providing comfortable, smaller community spaces where retreatants can congregate and relax.
Henry Fortier, head of the Education Secretariat which oversees schools and San Pedro said, "This has been a three year renovation process through Alive in Christ with the final phase occurring in the winter of 2019, with the last 18 bedrooms in St. Thomas the Apostle (building 200).  This will complete a total updating of facilities on what has traditionally been called the Conference side of San Pedro." He added, "In the summer of 2019 we will begin a total renovation of the other side known as Camp side which will expand out meeting capacity, provide for more parking, and ultimately enhance our visitors experience and encounter with God."
By Glenda Meekins of the Florida Catholic – November 19, 2018