On a cool Friday night, 21 youths and 20 chaperones set out to see what it was like to be homeless. With their cardboard boxes and three personal items, they headed to the outdoor covered pavilion of St. Joseph Parish in Lakeland to spend the night. After hearing talks from two homeless persons residing at Talbot House Ministries, a homeless shelter that provides assistance with employment, food and medical needs, they were in for a surprise. This was not your average retreat.
Marcos M., is 16 years old and in 11th grade. "I wanted to go to try something new. It was not at all what I expected," he said. "I went in and saw a couple of my friends. I thought it was basically going to be like a sleepover. So when we went back outside (after the talk), we were frustrated because we were missing pillows and some of our stuff. We were kind of scared." During the presentations, parents disguised as homeless persons had "stolen" some of their pillows and personal items such as toothpaste. It was an introduction into the harsh reality of life on the streets.
Pastor of St. Joseph Parish, Father Tim LaBo said, "We have a very large homeless population here in Lakeland so it is very pertinent to our students and to our people. We wanted them to see the face of the issue and of the people themselves. It was important to raise awareness and consciousness of the issue and the factors that cause or create homelessness. Then, how is it that we can teach our young people how to minister, share and be a part of the solution to homelessness, to help people get out of the situation. It was a wonderful opportunity for the young people to learn and to grow."
Megan Hawkes, communications director at Talbot House Ministries, which originated thanks to St. Joseph's, said, "Any time we can help our young people see the importance of caring for one another and not allowing any part of our society to become invisible by standing for the marginalized and less fortunate, God is honored."
The retreat, which took place Nov. 2-3, was the culmination of Respect Life Month, said youth director Jackie Diaz-Rivera. During the month of October, she led a series of weekly discussions covering dignity of life topics from abortion to care for the elderly. The weekend began with a meager meal and a talk from two residents of Talbot House. Diaz-Rivera enlisted the help of the Lakeland Police officer, Sgt. Franklin Fitzgerald, and his team to make the simulation as real as possible. Little after 2 a.m., the officers came and told the retreatants they had to move. "We wanted to provide a realistic experience of what our homeless may encounter as far as the legalities of where they can or cannot camp out," explained Sgt. Fitzgerald. "Unfortunately, when you're homeless, there are some basic human necessities that can't be met, so rather than sleeping on a cardboard on concrete under a shelter, they were now more exposed to the elements." He said it this is the first time the department has partnered in such a project and added, "It was a great learning experience for them." The next morning, participants shared breakfast with homeless persons at Talbot House.
Father LaBo noted, "The mandate of the Gospel is to stand with and serve the poor, to minister to them. That certainly connects with our mission as followers of Jesus. Respect life is about respecting life in all of its various forms and stages, all aspects of life. Certainly homelessness fits into that. Life has basic human needs for all people and we are trying to address those basic needs from the dignity of each person, to respect God's life in human life, in its dignity and fullness. We also wanted to give the youth the experience of our society today. It was very eye opening for them. It was powerful."
Marcos can attest to this. "What impacted me the most was when we went to the homeless shelter because I actually saw homeless people trying to find a way to live a different life and make their life better," said Marcos. "I talked to one guy who was 21 years old. That impacted me a lot because I thought to myself, 'That could be me in a couple of years.' Then I met a lady who told me how she had a degree and a great job and some personal things happened to her leading her to become homeless. That impacted me too because it showed me that, maybe you can have a college degree and one little thing out of your control can change your whole life." He said the experience changed him. "I came back home and the first thing I told my parents was, 'Thank you for everything you give me every day and the effort you put into me.' It made me grateful for what I have."
His mother, Yesenia, immediately noticed the difference in her son as well. "Knowing what he was going to undergo, I wondered how he would react and how he would feel. I knew that it would be hard for him, who has everything, to experience those things, to sleep on cardboard outside. His response was much more than I expected. It was something amazing to see that even we, as adults, often think the homeless are in that situation by choice… The change of his point of view was so great and helped us learn too."
Diaz-Rivera noted, "We gave them the tools to see the problem and now look at it through a different lens. They learned that decisions make a difference. We also wanted them to learn that they are their brother's keeper. That weekend's Gospel was about loving your neighbor as yourself. It was perfect for the message of the retreat."
At the end, Father LaBo thanked those who attended for their courage. "As Catholics, Christians and disciples, we are called to minister, to share and to stand with the poor; to care for the poor, to help the poor and to be a part of the solution…," he said. "This really taught them the reality of what it's like to be on the streets. They were really affected and saw homelessness from a different perspective. Many said, 'This is an experience I will never forget.'"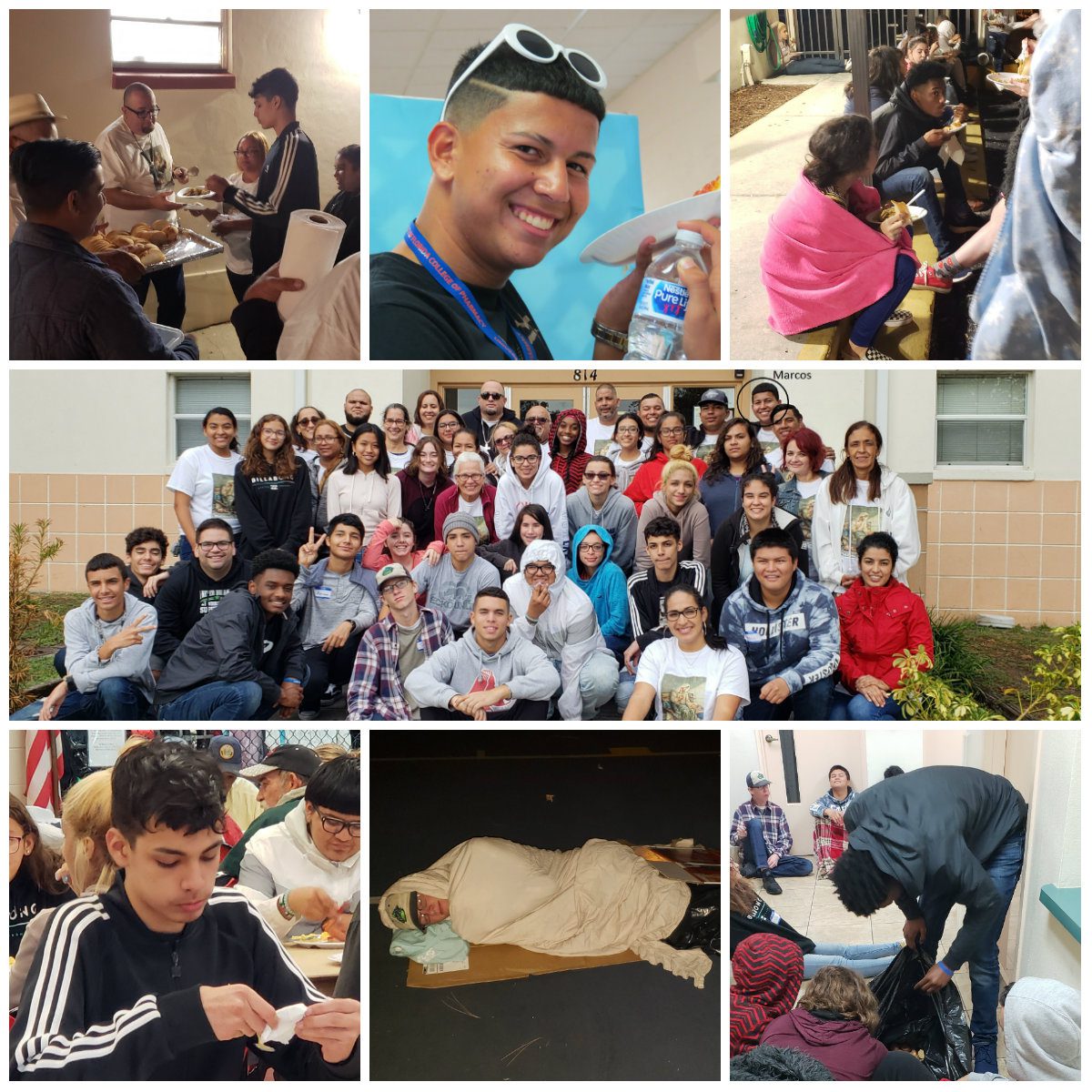 By Glenda Meekins of the Florida Catholic – November 19, 2018