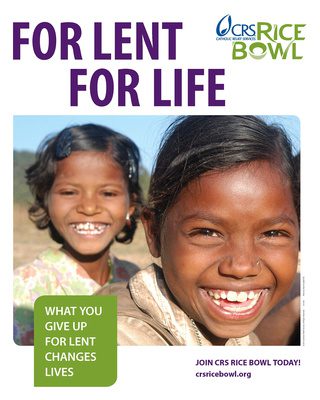 As Pope Francis says in his Lenten message, "Lent is a fitting time for self-denial; we would do well to ask ourselves what we can give up in order to help and enrich others by our own poverty." Our new, free CRS Rice Bowl app can help you respond to this call.
What are you doing for Lent? Many of us don't consider this question until Ash Wednesday. This year, I invite you to let CRS Rice Bowl be your guide. Here are some exciting new resources to help bring your Lent to life!
Download our mobile app and chart your Lenten journey with daily prayer reflections. Use the customizable tool to track your sacrifices and hear stories of hope from people around the world.
Visit CRS Rice Bowl's Global Kitchen to see cooking demonstrations and get recipes for meatless meals that use simple ingredients—perfect to share with your family and friends on Fridays during Lent.
Find prayers, family activities and more at crsricebowl.org.
What you give up for Lent truly can change lives. The prayers and sacrifices you offer through CRS Rice Bowl mean so much to those we serve around the world.
About Us
Catholic Relief Services is the official international humanitarian agency of the Catholic community in the United States. We ease suffering and provide assistance to people in need in 91 countries, without regard to race, religion or nationality.
FY 2012 CRS Annual Operating Expenses
CRS is efficient and effective. In 2012, 93 percent of our expenditures went to CRS programming that benefits poor people overseas.
We strive for respectful communications. To share your preferences for mail, email, phone or name exchange, please call 877-435-7277, or email us at donorservices@crs.org. For more information, visit crs.org/privacy.
Contact information:
Catholic Relief Services
P.O. Box 17090
Baltimore, MD 21297-0303
877-435-7277