During this Jubilee Year of Mercy, how do we become merciful like our heavenly father and also how do we open our hearts to receive God's mercy in our lives?
The saints of the Church can be our guide! They lived during complex times that challenged them in many ways. They overcame daily struggles with faith. We will highlight saints of mercy who blazed trails showing us the path to heaven with merciful hearts. They demonstrated works of mercy, which often requires hard work – as the name implies. They depended on God's love and grace to make this possible. We hope you will enjoy reading their stories of mercy and reflecting on how you can follow their footsteps into the arms of Jesus Christ.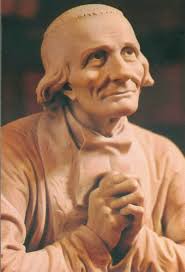 St. John Vianney, Feast Day is August 4
This saint reminds us to receive the Sacrament of Reconciliation often. Pope Francis has said, "In the Sacrament of Reconciliation, God forgives our sins, which he truly blots out. For every penitent, it will be a source of true interior peace."
St. John Vianney was born on May 8, 1786 near Lyon, France. He was one of six children born of devout peasant Catholic parents.
When he was four years old, the French Revolution persecuted Catholics. The Vianney family traveled to neighboring farms to participate in the celebration of Mass. When John was 20, he left the family farm to enter a Church school. He struggled with his lessons. It was only because of his deepest desire to become a priest that he persevered.
At 27, John was drafted into Napoleon's armies. He fell ill before his group left. The second time he was drafted, he went into a church to pray, and fell behind the group leaving for war. A young man volunteered to lead him back to the group but instead took him to the village of Les Noes, where other deserters also gathered.
While there John established a school for village children. He was hidden from the local police by a widow named Claudine Fayot.
In 1810 amnesty was granted to all deserters. Anthony returned to his studies, although it was challenging for him due to the many political disruptions he had faced in his quest to be ordained.
He was finally ordained in 1815.
In 1818, John was appointed parish priest of a small town named Ars. Once there he realized that years of political and religious unrest had taken its toll on Catholics. Ignorance abounded. Sundays were no different from any other day, with dancing in the taverns and working in the fields. John preached against such practices in the pulpit.
By 1827 his reputation began to spread, and by 1855 approximately 20,000 individuals sought his counsel annually. He spent 11 to 12 hours in the confessional during winter and 16 to 18 hours in the confessional during the summer months.
At times, he would encounter penitents who were discouraged and doubtful about God's forgiveness due to their awareness that they would sin again. St. John would then offer the following wonderful and inspiring response: "The good Lord knows everything even before you confess. He already knows that you will sin again and yet he forgives you. How great is the love of our God who even strives to voluntarily forget the future in order to forgive us."
How can we follow St. John Vianney's example to encourage participation in the Sacrament of Reconciliation?
Starting with your own life, examine your conscience to reflect on the ways you have distanced yourself from God and others. Seek God's forgiveness through the Sacrament of Penance and experience's God's love and peace in your heart. The Basilica of the National Shrine of Mary, Queen of the Universe, located at 8300 Vineland Ave. in Orlando offers the Sacrament of Penance (also called Confession) Monday through Saturday from 10:00 a.m. to 5:00 p.m. and Sunday: 1:00 p.m. to 5:00 p.m. Let others know about the healing mercy of Jesus Christ that is available to anyone who seeks the Lord.
Biographical information from "The Saints in Mercy" by the Pontifical Council for the Promotion of the New Evangelization published by Our Sunday Visitor.