WINTER PAR K |  After much prayer and thought, San Pedro Spiritual Development Center in Winter Park is holding weekly day camps in July.
With the theme, Out of This World, the schedule has been modified and precautions are being taken to make activities safe, while remaining fun and faith-oriented.
Kimmy Zeiler, program director, said the summer theme is in keeping with the school year theme of "My soul magnifies the Lord," focusing on Our Lady and her Magnificat.
"To incorporate that theme into camp was to really explore the life of Our Lady," Zeiler said. "Our counselors wanted to dive into Scripture more this summer, so we wanted to focus on the key Scripture passages that tie in with the mysteries of the rosary and what that teaches us about a life of faith."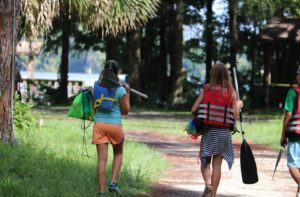 Lisa Karpinski, camp director, said the team will go in depth with the joyful mysteries on Wednesdays during camp week. Reflections will ponder, "How can we better live our lives like Mary?"
"We're comparing it to the spiritual fruits and how we can live them in our day-to-day lives," Karpinski said. "Our Lady came out of this world and was brought out of this world through her assumption and coronation."
Zeiler said the name for this year's camp was a logical choice. Although campers will also have fun exploring other "out of this world" skits including aliens and more, "the focus of the content of our teaching is what Our Lady teaches us about our faith," she said.
Due to safety precautions demanded by COVID-19, the number of campers are limited and activities will include social distancing and modifications. Daily liturgies will be in the outdoor, screened chapel, and archery will replace visits to the pool. Canoeing will remain, while paddle boating will not, to name a few changes planned.
After taking a survey from parents, the overwhelming response was that the youth were "virtualed-out," Zeiler said. Checking with the Diocese of Orlando Safety and Risk Management department, the San Pedro team realized they could offer "safe and healthy day camps." Keiler was happy to announce, "We can still offer a summer of faith, friends, and fun, but in a new environment."
By Glenda Meekins of the Florida Catholic, June 17, 2020