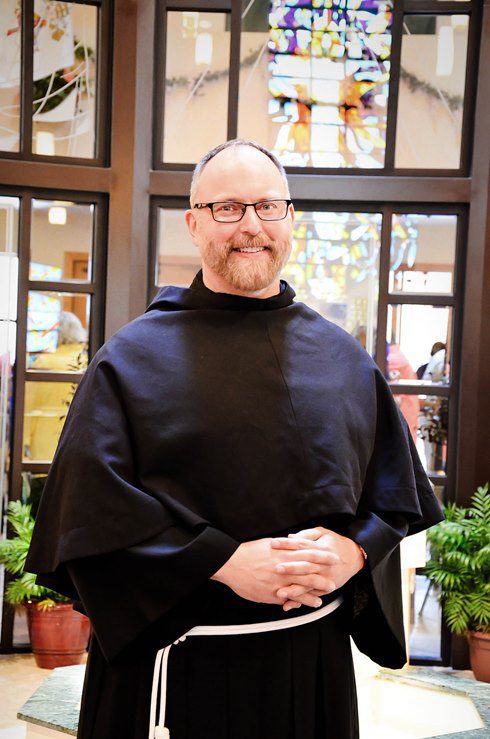 by Glenda Meekins 
San Pedro Spiritual Development Center's new director, Franciscan Brother Randall Pinner, grew up in Memphis, TN, about a mile from Graceland. He really did "Walk in Memphis… up to the gates of Graceland" as the song goes. He recalls peeking over the wall to try and get a glimpse of Elvis. He never did see him, but claims to have seen a limousine he was in.

Growing up in the Bible belt, Brother Pinner was raised Southern Baptist without much exposure to Catholicism. He admits, "My vocation story is a little odd. I watched 'The DaVinci Code' and that movie had just enough fact, mixed with fiction, that I thought, 'How did all this get started? Where did we go after the Resurrection?'" He said, "It really got me to doing a lot of independent research. Growing up Protestant, you don't really get a lot of the Church Fathers and the Doctors of the Church or the history."  Brother Pinner referred to his conversion jovially as, "Catholicism by Hollywood."
Brother Pinner said his Protestant formation gave him a solid foundation in Jesus growing up and his parents were great influences, instilling Christian values into his life. As a youth, his parents would take him to volunteer at homeless shelters and serve meals in a local soup kitchen. "Service was instilled in me at an early age," he noted. It was this love of service that drew him to study nursing at the Union University in Jackson. He worked in everything from cardiac care to oncology, intensive care and rehab before a move to Florida introduced him to the Franciscan Third Order Regulars (TOR) at St. Patrick Parish in Mount Dora.
"I knew that I needed to be Catholic and chose St. Patrick's randomly. Once I walked into the Parish, the presence of God was palpable and I knew that is where I belonged," remembers Brother Pinner. "I had a couple of callings to some type of ministerial vocation two times earlier, when I was younger and I really just discarded them. I had some discernment and even went to speak with a Catholic priest, and I wasn't even Catholic at the time. But I was really in denial. I thought, 'I can't really change my life as drastically as this would be'."
Yet change did come. "My third calling was after I had converted to Catholicism. I had already known the TORs and was drawn to the whole Franciscan way of life. Our whole charism is continual conversion. That is one of the things that I just fell in love with."
Brother Pinner was appointed director of the San Pedro Spiritual Development Center July 1, 2016. As director, he oversees daily operations as well as future plans. "We are moving the San Pedro Development Center forward," he said. "There are a lot of projects. We are freshening up the place and revitalizing some areas.
"The goal of San Pedro Spiritual Development Center is to be the spiritual and educational development center for the Diocese of Orlando," said Brother Pinner. "One of the most popular programs we offer is the Hermitage Retreat." He explained, "This retreat is offered three to four times annually. Retreatants are in silence most of their three and a half days with home cooked meals prepared and special meditations. The idea is to be immersed in silence while reflecting on Francis's love of nature."
Another popular program is Senior Days, offered once a month from September through the beginning of summer. Brother Pinner said, "It's a great program that offers seniors a continental breakfast, a presentation, lunch and closes with Mass. It's one of our most consistently attended programs. The topics vary and usually are presented by one of the Friars."
San Pedro also offers a variety of other days of reflection, Taize prayer services, summer camps for youth and numerous other activities to help the faithful at any stage of their spiritual journey to foster continual conversion, as called for in the Franciscan charism.
As far as his long term plans for San Pedro, Brother Pinner and a team from the diocese are working with Bishop John Noonan to explore options for growth. The Franciscan Friars who have staffed the Center since 1979 offer many programs, all with a Franciscan spirituality.