ORLANDO | In its seventh year, Orlando Laps for Life not only helps save lives, but it also drives home sanctity of life issues for students on the Bishop Moore Catholic High School campus. "It's very important that we all get to know more about pro-life, having children and making safe decisions," said Taylor, an 11th-grader and member of the Hornets Pro-Life Club. "Life is so important. Killing babies is something scary to think about and it's a real problem today."
The teenager didn't always have such concrete views on the subject. She said Jennifer Connell's A.P. Psychology class impacted her pro-life voice. Studying developmental psychology from birth to old age, Connell showed photos and diagrams of babies' development within the womb at various stages of life. "At 20 days they already have a heart. It's crazy to think about that," exclaimed Taylor shaking her head.  "It makes you understand it and understand where pro-life is coming from."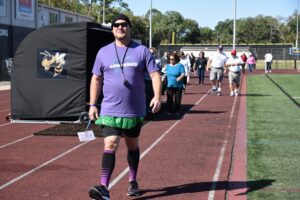 Students created baby books from the first to ninth month, illustrating the baby's development in the womb and raised a virtual child from birth to age 18. "I didn't know too much about pro-life and pro-choice," before that acknowledged Taylor. "I didn't have a specific side or get too involved in the whole issue. (The class) made me really aware of how a baby develops. It's God."
The students also had two opportunities to watch the movie Unplanned about former Planned Parenthood director, Abbey Johnson, who became pro-life. Bob Perron of the JMJ Pregnancy Center was on hand to answer questions.
Taylor was one of 200 student volunteers representing every club at the school who volunteered on March 7 to make sure Laps for Life was a success. Since its inception, Knights of Columbus (KOC) pro-life coordinator and founder of the event, David Scotchie, smiled as he recalled the first year and how few people participated. This year nearly 200 supporters hit the track on a mission to help mothers and their babies.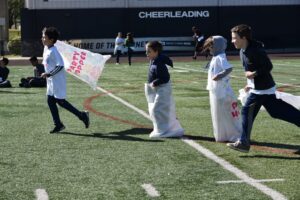 The Knights Ultrasound Initiative is active throughout the U.S. providing more than 1,000 ultrasound machines around the nation. In April, Florida KOC will have their 100th machine installed in a Gainesville clinic, just across from the University of Florida campus. Twenty-five pregnancy centers within the Diocese of Orlando have ultrasound machines thanks to Laps for Life.
As walkers and runners made their way around the track, one man stood out. Despite the frigid 60- degree weather. Toni Colamarino of Incarnation Parish was on lap 65, decked in black Spandex shorts with a sequined green skirt, purple T-shirt, striped socks and a beanie. The outfit was a dare from a friend. Colamarino was at it since 6 a.m., the first on the track, joined by his son. "I like my sponsors to feel like they're getting their money's worth," he laughed. It is also his personal goal each year to hit a marathon, 26.2 miles or 125 laps. He has yet to make it, but loves the challenge. "I'm a big believer in life… because ultrasounds save 80% or more of babies who are seen. I think it's very important to be out here as a Christian and a Catholic, to support the cause."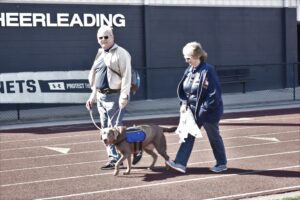 Others dressed in jackets and scarves for warmth, but everyone was united by the desire to protect life. Younger children stayed busy with sack races and games coordinated by 10th grade student Rafael. He hoped the event would "help people be a little more aware" of the issue and what they can do about it.
Vice Principal Yvonne Toro added, "This is not just important for Catholic educators and students, but for the community." Noting the numerous events on campus that day, Toro said she felt "many will be drawn to this cause because we are pro-life."
By Glenda Meekins of the Florida Catholic March 11, 2020