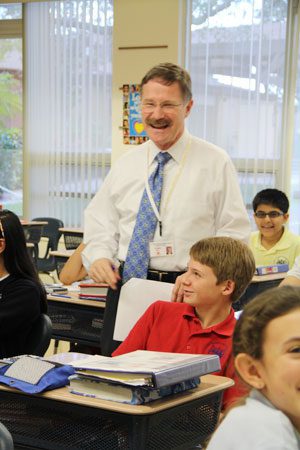 Dr. Joseph Belinski, director of School Planning for the Diocese of Orlando, came to the Office of Schools with impressive credentials. A veteran U.S. Navy pilot who reached the rank of Captain, Dr. Belinski flew Blackhawk missions during Desert Storm. He had spent time as a professor and curriculum chair at the collegiate level and had served as director of the Navy's Seahawk Flight Training University. There was one thing Dr. Belinski had never done throughout his professional career – stepped inside an elementary or middle school classroom. That is, until now.
Since Jan. 7, Dr. Belinski has been immersed in academic life at St. Vianney Catholic School in Orlando as a means to better understand the day-to-day challenges and rewards of teaching today's students. One week into his six-week tenure, Dr. Belinski has observed seventh and eighth grade science, English and math classes; taught a review lesson on fungi; attended a youth group and a student council meeting; participated in a Parent/Teacher Organization meeting, attended a science fair; and observed the administration of standardized testing. By the end of his stint, Dr. Belinski will have worked at all grade levels.
"This has been a very positive experience thus far," Dr. Belinski said. "I am impressed by the quality of education the children are receiving, as they learn at their own pace. I was also amazed at how well teachers are integrating technology and incorporating different methods of teaching into their lesson plans."
He also said he was impressed at the attentiveness of the students and each was involved in his/her education.
Dr. Belinski's unique assignment came about after a conversation with Henry Fortier, superintendent of Catholic Schools. Already rich in his faith, Dr. Belinski wanted to better understand the "education" portion of Catholic education.
"I don't think Dr. Belinski had this in mind when he approached me," Fortier said. "I think his plan was to observe the many facets of Catholic education."
Fortier said the idea to place Dr. Belinski in a school came from an experience he had while serving as a principal at a Catholic school in the Archdiocese of Baltimore. The superintendent spent several days as a kindergarten aide. Fortier said that experience proved beneficial to the schools and the superintendent, as the superintendent gained a better respect for the teachers' work and dedication, and the schools realized that the Office of Schools was there to work with them.
"I realize that six weeks will never provide Dr. Belinski with the experience of what career educators have, but a month will give him a new perspective," Fortier said, adding that he chose St. John Vianney Catholic School because with her vast experience as a Catholic school teacher and administrator, Sr. Elizabeth Murphy, principal, epitomizes Catholic education.
"I think this experience will help him be a better planner for our Catholic schools knowing the many facets and layers involved in providing our children the faith-filled education they deserve," he continued. "Catholic education is about service. It is a true ministry. We have teachers who are giving of themselves every single day to reach our children, parents who sacrifices tremendously, even if their children are on scholarship, to provide this opportunity financially for their child, and principals who are spending hours upon hours of their free time to create a loving, caring, Christ-centered academic environment."
Editor's Note: As Director of School Planning, Dr. Joseph Belinski is responsible for facilitating the strategic planning process for our Catholic school principals and advisory boards. The school strategic plan gives a roadmap for the future, evaluating strengths, challenges and planning for growth while considering demographics and other trends. He also assists Mr. James Cooney, Associate Superintendent, with school accreditation training and visitation process in both elementary and high schools.