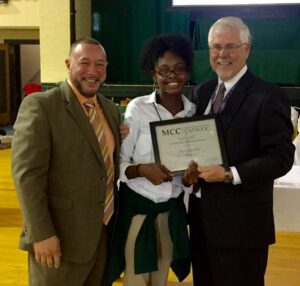 In 1961 a small group of dedicated nuns belonging to the Franciscan Sisters of Allegany moved to the burgeoning town of Melbourne, Florida to teach in the area's new Catholic high school, Melbourne Central Catholic. Now, more than 55 years later, this same school community has honored these devoted and faith-filled educators with a commissioning ceremony celebrating the school's Franciscan roots.
On Oct. 4 the school community gathered for the celebration of Mass on the Memorial of St. Francis of Assisi. For the school, this day had a deeper meaning than simply a celebration of tradition. School leaders have made a decision to intentionally embody the teachings and virtues of St. Francis of Assisi by officially adopting a school "charism."
"Recognizing our Franciscan heritage and focusing on the teachings of St. Francis is a way to connect our past, present and future in a meaningful way," said Michael Burke, school president. "By embracing the teaching of St. Francis as our school 'charism' we have an opportunity to strengthen and deepen our Catholic identity."
While most schools have a mission statement and core principles not every school has a charism. A charism provides a way to focus on an aspect of the Catholic faith. This is of particular importance in leading students on their faith journey. At times, the enormity of Catholic teachings can be overwhelming and complex to young Catholics.  A charism provides a way to help students become intentional in words, actions and prayer.
"The virtues of St. Francis give our students, faculty and staff a tangible and focused way to live their faith, "continued Burke. "The four essential virtues of St. Francis, inclusivity, humility, integrity and generosity, serve as touchstones that guide every aspect of campus life."
Henry Fortier, superintendent of Catholic Schools for the Diocese of Orlando led the commissioning ceremony. After Holy Communion, Mr. Fortier first called forward the corporate, academic and spiritual leaders of the school. Burke joined principal Ernest Herrington and chaplain Father Karl Bergin in pledging to uphold and model the school's Franciscan mission and foster a community of faith, love and unity in the tradition of St. Francis. Fortier then invited the faculty, staff and student body to stand and accept the same pledge.
"The commissioning ceremony was enlightening to me because it focused on the goodness of St. Francis and his teachings," said senior Sarah Laird. "He lived in the 1100's but his writings and principles are still so meaningful and they can be applied to everyday life.  I like that our school has embraced such a compassionate humanitarian as our guiding force."
In a special portion of the ceremony, Shawnt'a Hoo was honored with the Lourdes Ridyard Memorial Award. This award recognizes a student who embodies the charism of St. Francis of Assisi.  Lourdes Ridyard, for whom this award is named, was a Melbourne Central Catholic alumni, parent and teacher who fought a courageous battle with cancer. Her inspiring faith and unceasing grace touched many in the school's community and truly embodied the selfless spirit of St. Francis.
"The Franciscan charism is something that we hope will stay with our students well beyond their high school years," added Burke. "Today's commissioning ceremony was a symbolic celebration of the importance that we place on such virtues."