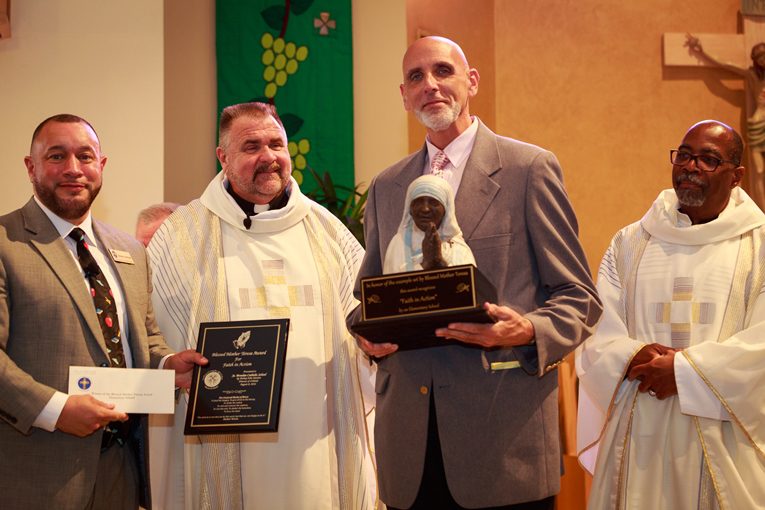 by Linda Caldwell
Two schools and 38 educators were recognized for their faithful service and dedication in serving God and their communities during the Office of Catholic Schools' annual Educator Kick-Off Day, held Aug. 8 at Holy Family Parish in Orlando.
St. Brendan Catholic School in Ormond Beach and Melbourne Central Catholic High School in Melbourne were awarded the annual Blessed Mother Teresa Award in recognition of service projects they completed during the 2015-2016 school year. The award is presented annually to two schools in the Diocese of Orlando that demonstrate the compassion and corporal works of mercy exemplified by Blessed Mother Teresa.
St. Brendan Catholic School was recognized for reaching out to the homebound of their parish and community. Every Christmas, the eighth graders visit the elderly, bringing small gifts and singing carols. Through these ongoing visits, the students and elderly have formed a bond. If during the year, the homebound person passes away; the students who have those established relationships serve at the liturgies for their funeral.
"I am so very proud that our school received the Blessed Mother Teresa Award," said Phil Gorrasi, principal.  "We try to instill in our students that they need to put their faith into action. We want them to love and serve. We want them to be Jesus to others. This award certainly tells us that our efforts are worth it and that our students are making a difference in this world and in the lives of the elderly shut-ins of our parish community."
Melbourne Catholic High School was recognized for its fundraising efforts to benefit Children's Network Miracle Hospitals. The students raised $37,640 during a dance-a-thon on March 19. It was the highest earning high school dance marathon in Florida.
"We are truly honored and humbled to have received the Blessed Mother Teresa Award for Faith in Action," said Michael Burke, the high school's president. "It is a testament to our school's Franciscan charism. Our students, faculty and staff strive to fulfill the famous words of St. Francis, 'It is in giving that we receive.' This outstanding honor encourages our community to continue with its pledge of serving others."
New this year, one teacher from each school was recognized for his/her service and commitment to teaching, receiving a Distinguished Teacher of the Year Award.
The culminating point of the awards ceremony was the presentation of the 2016 Jenni Heneghan Catholic School Leadership Award, named in honor of the late Jennifer Heneghan, who served as principal of All Souls Catholic School until her death in March 2015. The award is presented annually to an educator who exemplifies the spirit, faith life and professionalism of Mrs. Heneghan.
Janet Peddecord, principal of St. Anthony Catholic School in Lakeland, was moved to tears upon hearing her name called. She graciously accepted the award from Superintendent Henry Fortier, as well as from Jenni's husband, Bobby, and son, Colin.
"I feel honored to have been awarded the 2016 Jenni Heneghan Catholic School Leadership Award," Mrs. Peddecord said. "I worked with Jenni and I saw how much her family and her community respected and loved her.  I come to school each day, not for the paperwork, but for the chance to make a difference in the lives of children.
"I never considered receiving an award for a job that I do because I care about our students, but it certainly does make me very proud to have been chosen for this award.  I know that Jenni is smiling down on all of us as we begin this new school year."