ORLANDO | St. Isaac Jogues Parish is dark, except for the small sliver of light illuminating a barren wood cross, draped in purple. The image is familiar, but what the faithful are about to experience is unexpected. A cacophony of music, images of Christ's passion, and prayers. It is PassioChristi, a multimedia presentation of the Stations of the Cross produced by parish music director Sal Solo.
Iris Pagan found the experience powerful. "This affected me a lot. When you see it with your own eyes, you realize the depths of Christ's suffering. It's not the same when you read it as when you visualize it. It's good this way because people can better grasp what actually happened."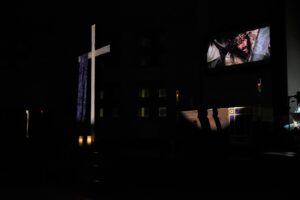 The idea came to Solo, a veteran presenter at the National Catholic Youth Conference and other events throughout the United States, after observing students at a social justice event. "It fascinated me to see teenagers craning their necks to read everything that was up there," he said. It gave him the idea to present the Stations of the Cross to Confirmation students at his parish. "By having the movie clips, it takes you to the place. When we can be brought there, it can be very different." He added, "Getting through to this generation, it's not enough to go through the motions."
Years prior, while at St. John Vianney Parish, he observed a young woman and her three boys who always sat in the first row. "I thought, with those boys growing, it must be tough. She's probably got two or three jobs, so if we just stand up and smell theology, what use is that going to be to her? I need to speak to their lives and their needs." Thinking of how he could speak to her life and her children, he began to consider all presentations in this light.
The musical and visual prayer was bilingual. Clips from Mel Gibson's "Passion of the Christ" depicted each station with brutal honesty. Prayers and related Scripture were projected on the screen for parishioners to follow. At each station, Deacon Alan Espinoza knelt before the large cross and blessed it with incense.
Fernando Esquiaqui found it profoundly moving. "It is beautiful the way this presentation authentically evokes Christ's suffering. He was treated worse than a savage animal. Yet, He (Jesus) said, 'Forgive them for they know not what they do."
Both Esquiaqui and friend, José Cruz, commented on how the use of scenes from the film drove home the reality of the Via Dolorosa. Moved to tears and needing a moment to collect his thoughts, Esquiaqui added, "It is incomprehensible for us to understand how Christ suffered for you, for me, for each of us. And every five minutes we still fall. We ignore His suffering for our own personal convenience. We turn the page and move on."
Cruz, who will play the part of Pontius Pilate in the Living Stations or Via Crucis later in Lent, said, "We are the Pilate of today each time we sin. Each time we get it wrong, we are condemning Christ again. He died for us and we still continue to condemn Him."
Cruz noted the presentation will impact the way he will portray Pilate this year. "There are things that we can improve and integrate, more of the reality of what we saw so the people can truly realize that we are not presenting a play, but Jesus Christ's suffering during the last 13 hours of His life."
By Glenda Meekins of the Florida Catholic April 1, 2020