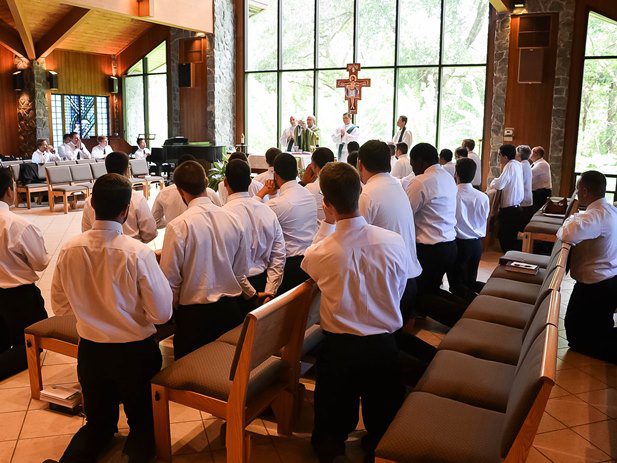 By Glenda Meekins
Thirty-three seminarians gathered for prayer, fun and fellowship at San Pedro Spiritual Development Center, August 2 – 4. The annual seminarian convocation was an opportunity to share the graces received from their summer assignments, meet new seminarians, and spend time in prayer with one another.
This year's four new seminarians were welcomed to form the freshman class: Ezekial Silas and Alex Feliciano of Blessed Trinity Parish in Ocala, Austin Cameron of the Basilica of St. Paul in Daytona Beach, and Edwin Matthew Rios of Most Precious Blood Parish in Oviedo.
The event was held just as the seminarians completed their summer assignments, eight weeks spent outside the classroom to learn, serve and grow in faith. Their assignment locations took some as far as Nebraska and Uganda.
Bishop John Noonan joined the seminarians for some of the activities and celebrated Mass for them on August 3. During his homily, he reminded them that, despite the busyness of life, "We must focus on the mercy of God." As each seminarian had a chance to reflect on their summer experiences, they found God's mercy abounded, in what they gave and in what they received.
Ricky Salgado of St. Catherine of Siena Parish in Kissimmee is in his sixth year of seminary. He attends St. Vincent de Paul (SVdP) Regional Seminary in Boynton Beach. He spent the summer at the Basilica of St. Paul in Daytona Beach serving the homeless, which had a great impact on him.
"Seeing such a huge church in such a place where there was a lot of poverty was overwhelming. I felt like I was walking in the shoes of Mother Teresa of Calcutta and her words circled around my mind. 'In each of the faces of the poor, we can find the blessed disguise of our Lord Jesus Christ,'" Salgado remembered.
One day he had the opportunity to sit with a homeless man whom he found at the foot of the Basilica's front steps. "He was a little bit frightened and thought I would kick him out. I sat with him and we talked for about a half hour. It was such a beautiful experience to see Christ through the face of the poor."
Other seminarians spent their summer visiting the sick. Robert Marquez, a former Disney Guest Service Manager from Holy Redeemer Parish in Kissimmee who attends St. John Vianney College Seminary in Miami, recalled his first visit to the hospital. "I was nervous the first time going out," he said.  But soon he found that the people he went to care for, ministered to him. These experiences "made the calling stronger," said Marquez. "I want to be a part of the Ministry of Healing – to be there for people and help them through those difficult times, being present to them. I think that helped me in my own vocation."
Thomas Coppola of Annunciation Parish, Altamonte Springs, will be entering his third year at SVdP Regional Seminary in Boynton Beach. His summer was more like a long retreat. He spent the first eight days of summer break on a silent retreat entitled Discernment of Spirits, at the Institute for Priestly (IPF) in Nebraska. While there he became more aware of his thoughts, feelings and desires and how to filter them in order to determine what is from God. He spent the rest of summer break going to classes and processing what he had learned.
"What impacted me the most was that it was a confirmation of my vocation," said Coppola. "I was really set on fire for what it means to be a priest. I think that it helped me to fall deeper in love with the Church."
In addition to sharing their varied experiences, the seminarians enjoyed reconnecting through sports, games and movies. The Convocation gave them time to gather and share in a brotherhood that is a gift both unique and sacred.