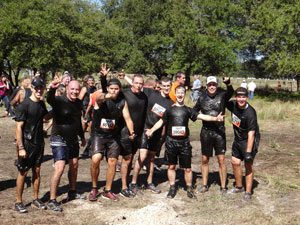 'a life with Jesus is truly worth living even when you are covered in mud'
Blake Britton, a first-year theologian seminarian at St. Vincent de Paul Regional Seminary in Boyton Beach, is not one to back down from a challenge. When he heard that a group of his brothers were taking on the Tough Mudder, a grueling obstacle course that tests participants' toughness, fitness, strength, stamina, mental grit and teamwork, he saw it as an opportunity not only to support the Wounded Warrior Project, the beneficiary of the charity event, but also as a means of growing in fraternity with his fellow seminarians and evangelizing.
"I am a person who craves adventure and testing my limits," Britton said. "This race was by far one of the most strenuous things I have ever done in my life."
"The most rewarding benefit I received from the Tough Mudder was the satisfaction of completing the course as a team with my brother seminarians," he continued. "'No man left behind' was our motto and we stuck to it finishing the race with our whole team intact."
Twenty-four seminarians, including Britton, Juan Osorno, Edwin Cardona, Josh Swallows, Chris Dorsey and Mark LaBelle from the Diocese of Orlando, along with Monsignor David Toups, rector of St. Vincent de Paul, and Father Gregg Caggianelli, director of Field Ministry, took part in the 2013 challenge, held Nov. 2 and 3 in River Ranch, about one hour south of Orlando.
Designed by British Special Forces and considered "probably the toughest event on the planet," each Tough Mudder challenge consists of a unique 10+ mile trail run over rugged terrain, featuring 20+ obstacles. Since the first event in 2010, more than 750,000 people have participated inTough Mudder events across four countries. Participants have raised more than $2 million in support of its official charity partner, the Wounded Warrior Project, a non-profit organization aimed at helping American servicemen and servicewomen who have been severely injured in combat.
Britton said while the event truly challenged his physical stamina, it had an impact on his spiritual life as well.
"One of the main goals of seminary formation is to form men who possess a sincere vigor for life accompanied by the capacity to see the living person of Jesus Christ in everyplace and under any circumstance." Britton said. "Participating in the Tough Mudder helped to foster this crucial aspect of priestly formation in my own heart."
"In what began as a rigorous training process some two months ago and ended with the crossing of the finish line, I have found myself a better man with an even greater appreciation of the beautiful truth that any event and any experience can be an opportunity to grow in holiness with Christ," he continued. "It has been affirmed once again that a life with Jesus is truly worth living even when you are covered in mud and feel as if you cannot take another step."