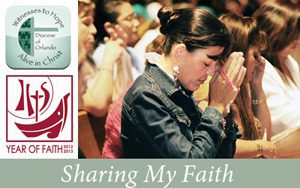 New videos have been uploaded to the Diocese of Orlando Year of Faith app called "Sharing my Faith."
The new videos feature young people talking candidly about their faith and what they hope to do during the Year of Faith. Please feel free to share and encourage others to make their own videos.
Not sure how to make your own video?
The Diocese of Orlando Office of Communications has produced instructional videos on how to make a video – found here:
https://www.orlandodiocese.org/smf-make-a-video
Android users can download the "Sharing my Faith" app at http://2012.orlandodiocese.org/applications/OrlandoDiocese.apk
I-phone and I-pad users can access the "Sharing my Faith" app in your mobile browser at: https://www.orlandodiocese.org/smf-welcome
This app can also be viewed on a desktop computer at this link: https://www.orlandodiocese.org/smf-welcome-desktop