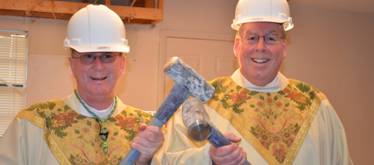 Apartment complex to become parish youth center
Members of Blessed Sacrament Parish, Clermont, continued their 50-year anniversary celebration with Bishop Noonan blessing a vacant apartment complex that will soon be transformed into a new youth center.
Parish youth led those who attended the Anniversary Mass on Jan. 14 to the apartment complex across the street. Once there, Bishop John Noonan and Father Robert Webster, Pastor, thanked those who pledged funds for the parish's Alive in Christ Campaign.
"Let us pray that God will build this new house," Fr. Webster said. "That what we do will be for His honor and glory, and that in this place many will come to know God and follow the Gospel of his Son, Jesus Christ, more faithfully." Read more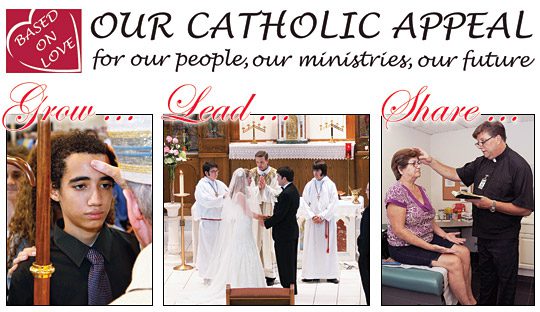 Our Catholic Appeal supports sacramental life of the Church
Our Catholic Appeal funds the diocesan ministries and programs that help us to grow in our personal, living relationship with Jesus Christ, lead others to a life of holiness and share our blessings to offer a future of hope.
On Feb. 11-12, parishioners of the Diocese of Orlando will be asked to support this appeal with gratitude for the blessings God has bestowed upon us. Gifts to Our Catholic Appeal enable the diocese to care for the needy, strengthen families, educate young people, support our clergy, and perpetuate a culture of life.
This year's theme explores the many ways that Our Catholic Appeal supports the sacramental life of the Church so that God's people may strive toward the fullness of grace and discipleship.
Please visit www.cfocf.org/OCA to make your gift. Read more
Campaign success brings Kissimmee parish closer to new church
For many years the families of St. Catherine of Siena, Kissimmee, have been working, giving, and praying for a new church. Now, thanks to the powerful combination of faith and generosity, the parish is one step closer to a new spiritual home.
Using proceeds from a long-standing building fund, the parish recently began site work for a future church, including new entrances and parking lots.
To help meet the remaining construction costs, the parish looked to the Alive in Christ Campaign. Although the last wave of Alive in Christ concluded in the fall of 2010, St. Catherine of Siena got a late start and did not begin the campaign until September 2011. The delay did nothing to dampen the enthusiasm of parishioners, who returned hundreds of pledge cards during the parish's Commitment Weekend on January 28-29.
In the days leading up to Commitment Weekend, the parish raised approximately $525,000 toward a goal of $850,000. By the end of Commitment Weekend, generous parishioners had pledged an additional $700,000, bringing the parish to 144% of goal. Read more