ORLANDO | If you could reduce your anxiety before walking into an interview, speaking publicly or taking an exam, would you do it? A team of Bishop Moore Catholic High School students in Orlando recently used simulation technology to prove that anxiety, in people of all ages, can be reduced. They presented their simulation at the recent Interservice/ Industry Training, Simulation and Education Conference (I/ITSEC) conference in Orlando—the world's largest modeling, simulation and training event, and won first place in the Future Leaders Pavilion against five schools—four public and one Catholic school.
The students were hand-picked by Sharon Dearman, computer science teacher and former AT&T and IBM employee who spent the last 15 years educating students on the intricacies of programming and the ever-growing capacity to change the world with computers. She also teaches courses in cyber security.
"The purpose of this class is to find a problem we could solve using modern day, technological solutions," said Marcus, a junior hoping to go into business or engineering. Dearman acknowledged, "The hardest part of this is coming up with an idea."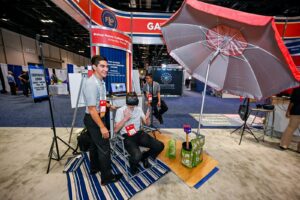 After some discussion, they decided to do something that would help veterans with post-traumatic stress disorder (PTSD). "It was a great idea, but it's kind of broad and we'd really need to know the psychology behind how to help them because that could be really serious," said Dearman. To help Marcus, and seniors Patrick and Liam, refine their idea, Dearman called in Joe Del Rocco of Cacti Council, a non-profit promoting creative thinking, and Carol Guthrie, Bishop Moore's director of academic support, to observe and provide input. Del Rocco brought along an expert in Unity, the programming language students used to create the code.
Settling on alleviating test anxiety, they called their project Test Anxiety Management Exercise (TAME). Patrick and Liam immediately got to work trying to collect information and compile statistics for their presentation before the judging panel of civilian and military professionals. "We found an issue that was not only applicable to the student body, but to the greater community," said Marcus. Anxiety disorders are the most common mental illness in the U.S., affecting 40 million adults age 18 and older every year, according to the Anxiety and Depression Association of America.
"We found that close to 80% of the students had some sort of test anxiety," Marcus noted, particularly in Math or Science. "We did our research and found that professionals are using virtual reality along with breathing techniques (to calm people). So we combined the two into one immersive environment that can help lower text anxiety within students and is actually helpful for people who are about to go into a stressful situation, like a job interview. We wanted to create the best of both worlds."
More than half of the school (700 students) responded to the initial query helping the inventors affirm their decision. Twenty-two percent said they had high levels of test anxiety. So the team designed a virtual reality simulation of a beach. The students took Del Rocco's advice of making it feel more real. In addition to the VR goggles, they added an umbrella, beach chair, towel and soft floor mats to transport the individual to another place.
Users first answer a three-question survey to establish their current anxiety level. They put on the goggles and learn the '4-4-4' Navy SEAL breathing technique (breathe in for four seconds; hold for four seconds; then breathe out for four seconds). A sphere over the water, similar to the sun, grows and diminishes with the breathing exercise. Upon completion, participants take the same three-question survey.
Meanwhile, soothing music plays in the background, composed by Nathan, a fellow junior who offered his skills to take the project up a notch. This is Nathan's first composition for a computer program. He calls the genre "electronic music relaxation."
Twenty students took part in the TAME project. Rating their anxiety between 1 and 5, they averaged 3.6. After the simulation, they scored an average of 2.5. Bishop Moore hopes to put TAME in the testing lab at school, but Patrick noted, "We envision the use to be more widespread than just the classroom."  They're also looking to keep cost down while using the latest technology. They would like to move from goggles to Google Cardboard, a more affordable option driven by an application for your smartphone. While VR goggles can cost hundreds of dollars, the app is less than $20.
The results have also led to an offer from a high profile company committed to the future of aviation. "They create training solutions for different applications such as military aircraft missions," explained Marcus. "They approached us because they felt they could use our ideas in order to incorporate this into their current high intensity training session." Patrick added, "They want us to do more trials and research on people with test anxiety and get wider sample groups to prove that our application really works before they take it."
Each student is grateful for what they received from this experience. Marcus said, "The best part was that we were able to create something that big technology and simulation companies are using to make their trainings better for the military and external applications." He added that learning how to present the project provided practical tools for promoting his own watchmaking business.
Patrick honed his time management skills- balancing school, project development, and actual floor time at the convention with a one-hour commute each way. "Going through that experience taught me how to get it all done. I think it will be really useful when I go to college next year."
"The opportunity gave us hands on experience with computer science and immersed us in the field. We got to see what it's like in the actual industry," Liam said. All agree the project and its success was extraordinary.
Dearman plans to continue taking students to I/ITSEC and pushing their creative boundaries, whether it is "Finding Patient Zero" (where a virus originated) which won several years ago or figuring out the fastest way to load people onto a plane – another past project. "When you teach computer programming, you have to change it up because things change every year," she said. And although winning is always rewarding, she emphasizes, "…it doesn't matter. It's the experience of it."
By Glenda Meekins of the Florida Catholic January 15, 2020