DOMINICAN REPUBLIC | Imagine you live in the central mountains of the Dominican Republic during the COVID–19 pandemic. Schools are closed and students must attend virtual classes via internet, radio or TV channel. Sounds like a good plan until you realize internet is either unavailable or unreliable. Your mother, father, or guardian is uneducated and not technically savvy. There is no iPad, smartphone, computer, or TV in your home. How in the world can you complete your studies? This is the great challenge for students, teachers and families in our sister diocese of San Juan de la Maguana.
The mission schools are part of the public school system of the Dominican Republic and the state is providing quality online classes to every student in the country. However, there is little electricity in the mountain villages of El Montazo or La Cueva.
Superintendent of Catholic Schools, Henry Fortier said, "As we, here in the U.S., struggle to meet the educational challenges presented by the pandemic, the circumstances are much more dire in our sister diocese. Our schools in the mountains are isolated and have limited internet connectivity. The solutions we have found in our Catholic schools here in Orlando do not work there."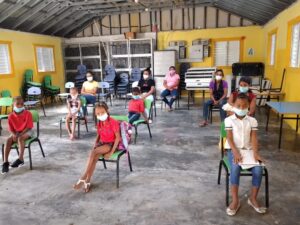 Working toward a solution, he said teachers in various communities of Las Lomas have "gone above and beyond anything we would consider reasonable in the U.S. by taking the classroom into the homes and streets with smalls groups of children teaching them wherever they find them." He noted the difficulties faced by teachers "moving around the countryside, instructing children remotely." Mission students do not get to meet with their teachers everyday "making learning patchy and disconnected."
In light of the situation, mission teachers have reimagined how to reach students. They began teaching small classes outside and visiting students in their homes while wearing masks and social distancing. The need is so great, teachers implemented classes on the school patio twice a week. Their hard work is beginning to yield great fruit.
However, students often see their teacher only once a week and many of their parents never had the opportunity to attend school, "so they are illiterate and can't support the learning process either," Fortier said. "If we think about how limited our resources were here in the U.S., as the most powerful country in the world, imagine how little these remote mountain communities have when they were already in desperate need before the pandemic arrived."
As Fortier stated, teachers are educating the parents as well, explaining specific lessons and handing out notebooks with assignments for students to complete at home one month at a time. It hasn't been easy, but together the community is building God's kingdom and loving His little ones.
"What a challenge for our little mission schools in the mountains," Ursuline Sister Bernie McKay, who directs mission efforts in our sister diocese said. "A truly unimaginable project, but here we are, doing whatever it takes to make beautiful things happen for God." She applauds the mission teachers who "embraced the challenges wholeheartedly, without the support of technology and basic services such as electricity. Their resilience and commitment to serve our students has been outstanding.
"On this score they should all receive a triple A+, but sadly they are also in agreement that very little educational advancement is possible and in reality our students are failing." Yet she and they remain undaunted. "This Advent and Christmas season invites us to renewed hope, strengthened in the knowledge that their generous efforts will serve as the building blocks for a new tomorrow after COVID–19."
To support the Missions Office programs, click here. (www.cfocf.org/missionoffice/give)
By Caroline Genovesi, special to the Florida Catholic December 16, 2020