ORLANDO | "When I sit and count my blessings these days, I am overwhelmed by God's timing!" said Sister of Saint Joseph Kathleen Power. On the cusp of her senior year of high school, a seminarian friend asked Sister Kathleen if she had ever considered religious life. Sister Kathleen, who though a lifelong Catholic, did not have much of a personal faith life, said, 'No.' But the question stayed with her, so much so that by time she graduated one year later she immediately joined the Sisters of Saint Joseph of Saint Augustine, Florida. Now, sixty years later, she is celebrating her jubilee anniversary and has reason to be grateful for that well-timed question.
"I was raised in a Catholic home, went to church, and brought home A's in religion. My prayers were formal, I didn't know Jesus as friend and knew almost nothing about religious life," remembered Sister Kathleen. "But it was my time to hear God's call. I said, 'No' to my friend, but the question moved me to answer God's invitation."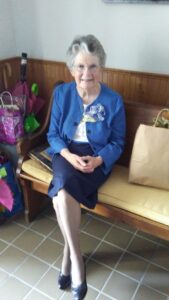 Born in Des Moines, Iowa, Sister Kathleen is the oldest of six children. A Navy family, they moved frequently and spent many years in Long Island, NY until landing in Orlando at the beginning of her high school years. Sister Kathleen began attending Bishop Moore Catholic High School where, in another example of God's perfect timing, she was introduced to the Sisters of Saint Joseph. More than anything Sister Kathleen wanted to figure out a way to spend her life helping others. When she looked at the sisters teaching at her high school, at that time clothed in a full black and white habit from head to toe, she saw women who were doing exactly that. When she answered God's call to religious life, Sister Kathleen was in no doubt of where to go.
"The Sisters took me as I was and gave me amazing insight into prayer and Scripture, as well as challenging ministries to serve my dear neighbor," recalled Sister Kathleen.
Over the years, Sister Kathleen has had many and varied opportunities to put her formation into practice through teaching at St. Mary's Elementary School in Miami, serving as principal at St. Stephen's school in Hollywood, FL and Holy Redeemer school in Tampa,  hospital and nursing home chaplaincy, spiritual direction and spiritual formation with new members of the Sisters of Saint Joseph community, parish associate, Christian initiation for adults director, and as both diocesan and Sister of Saint Joseph community vocation director. For a time, she even hosted a podcast called "Heart Talks with Jesus" that provided listeners with a peaceful guided meditation to help them grow closer to Jesus Christ through prayer.
It was as associate vocations director that Sister Kathleen returned to the Diocese of Orlando in 2007. One of the recommendations from the diocesan synod was that there be a religious presence in the vocations office. In that role, Sister Kathleen instituted Fiat Days, Come and See retreats and Nun Runs to provide young women with the chance to pray, discern, and experience religious life firsthand. She also journeyed with the diocesan seminarians, participated in the Sisters' Council, and led discernment groups at the University of Central Florida. Perhaps her proudest moment outside of the vocations office was back at her alma mater, Bishop Moore. A former volleyball coach from her St. Mary's days, St. Kathleen prayed with the Bishop Moore girls' varsity volleyball team and cheered them on to victory as team chaplain. When the team won the state championship in 2015, Sister Kathleen was called onto the court and awarded a gold medal with the rest of the athletes. From that day on, the medal was proudly displayed in her office in the chancery building and even occasionally worn to meetings!
After eleven years serving the Diocese of Orlando, Sister Kathleen moved back into the motherhouse in St. Augustine, where today she can be found ministering at the St. Joseph Renewal and Retreat Center. She celebrated her 60th Jubilee on October 5 with her community and all the members of her family, the first time they had all gathered together in 24 years.
"The greatest blessing of religious life has been knowing God's love for me!" said Sister Kathleen.