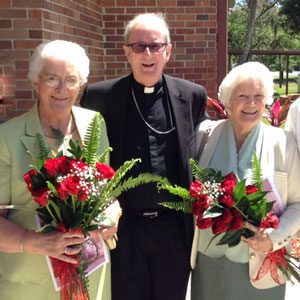 Two religious sisters from the Sisters of Mercy have relocated to Ireland after devoting much of their lives serving in the Diocese of St. Augustine and the Diocese of Orlando teaching at St. Teresa Catholic School in Titusville. They flew back to their homeland on April 8 to serve at the Sisters of Mercy Motherhouse.
As they prepared to say their final good-byes, both of the Sisters said they were going to take "a load of happy memories" back to Ireland with them. The people of St. Teresa will also carry the Sisters in their hearts as well.
"St. Teresa's School was fortunate enough to have had Sister Kathleen and Sister Hilda in our school and church community for so long," said Hillary Arena, class of 1972, a member of the School Board. "Their devotion to God and dedication to their students for more than 50 years have been an inspiration."
"These women of God offered up their lives to teaching, reinforcing our academics, our faith in God and helping us to form our Catholic identities," she continued. "They were a constant reminder of God's love for us and taught us life lessons by being examples of Christ."
Bishop Noonan also expressed his deep gratitude for their years of dedication and the many lives they have touched.
"I am especially grateful for your gift of enkindling a deeper faith in the hearts of our young people and their parents. I know your leadership has sustained the faith-filled community of St. Teresa in Titusville," said Bishop Noonan.
Sister of Mercy Kathleen O'Brien
The day after professing her final vows as a religious sister on July 25, 1962, Sister of Mercy Kathleen O'Brien left her home in Ireland to come to the United States to teach kindergarten to the Catholic children of Titusville. Despite the lack of a school building – that would come later, the young religious was eager to share the love of Christ with the students of St. Teresa Catholic School.
"It didn't matter that there was not a school building," Sister O'Brien said, noting that classes were held in temporary locations – the old rectory, neighboring houses, and even the church – during the early years. "The children were eager to learn. They didn't care where they were."
During her nearly 50 years as a teacher, she taught at each grade level bringing the children the love of Christ and helping them to learn about the Catholic faith and forming them as children of God.
"I have enjoyed my time here and have never looked back on my calling," Sister O'Brien said. "The greatest joy I have received in my vocation is the response from the children. They were very close to Jesus. It was extraordinary how their eyes would light up when we talked about him."
In 2006, Sister O'Brien received the Diocese of Orlando's "Most Rev. Norbert M. Dorsey Award for Distinguished Service to Catholic Education" in recognition for her ministry to the children. In 2009, she retired from teaching but continued to serve the faithful of Titusville.
Sister of Mercy Hilda Cleary
Sister Cleary's journey to religious life was similar to that of her friend. Growing up in a devout Catholic family in Ireland, Sister Cleary entered the convent soon after graduating from high school and she professed her final vows on July 16, 1969. She spent nearly two decades teaching music in her homeland, primarily at Seamount College in Kinvara, and in 1978, Sister Cleary relocated to Florida to help meet a growing need for teachers at St. Teresa Catholic School. One day after landing in the United States, she stood before her new class of enthusiastic kindergarteners.
"Straight away, I loved teaching the children," Sister Cleary said. "They have such a love for Jesus."
For the next 36 years, Sister Cleary taught primarily first and fourth graders. When Sister O'Brien retired, Sister Cleary took over teaching middle school religion. She said she grew in her faith during that time because she had the opportunity to observe Society of Divine Savior Father Krzysztof Bugno, pastor of St. Teresa Catholic Church, teach the students as well.
"My vocation has been a true blessing," Sister Cleary said. "Having time for prayer and reflection has brought me closer to God."
Editor's Note:
Sisters of Mercy Kathleen O'Brien (pictured left of Bishop Noonan) and Hilda Cleary (pictured right of Bishop Noonan) will be remembered at St. Teresa Catholic School for generations to come. Following the celebration of Mass on March 30, a plaque dedicating the school playground to the Sisters of Mercy and in particular Sisters O'Brien and Cleary, was revealed.