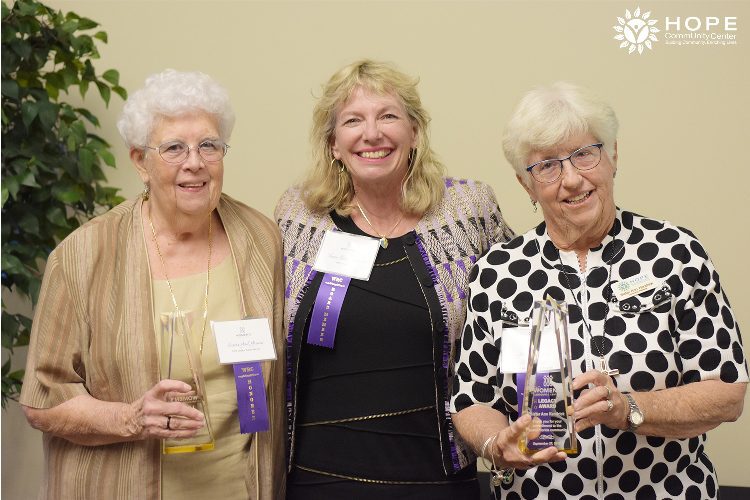 The Central Florida Women's Resource Center recently honored Sisters of Notre Dame de Namur Ann Kendrick and Gail Grimes with the Legacy Award recognizing the work they do with the Hope CommUnity Center.
The Women's Resource Center's 32nd Annual Summit Awards, which took place on Sept. 27 at Second Harvest Food Bank in Orlando, honors women who have given outstanding community service and leadership in Central Florida.
Sisters Kendrick and Grimes, who were nominated by their peers, joined friends, staff, family and youth, who all have been touched and impacted in some way by their legacy. In the early 1970s, these consecrated women arrived in Apopka to serve farmworkers and the working poor. Through their faith and dedication, they have provided this underserved community with the resources needed to move toward social and economic justice.
The Hope CommUnity Center in Apopka is a service learning community dedicated to the empowerment of Central Florida's immigrant and working poor communities through education, advocacy and spiritual growth. Reflecting on the ministry Sister Kendrick said, "In this Year of Mercy, we are reminded of Pope Francis' words that there is an inseparable bond between our faith and the poor.  It is this vision of engaged faith that we seek to live out each day here at Hope CommUnity Center."
For more information, visit www.hcc-offm.org/2016/09/28/sisters-honored-for-legacy-award/.
The mission of the Central Florida Women's Resource Center is to support the community by recognizing the power of women; celebrating women's achievements; connecting with and encouraging other women's organizations; and identifying, impacting and supporting women's social, education, health, political, economic, spiritual and artistic issues.