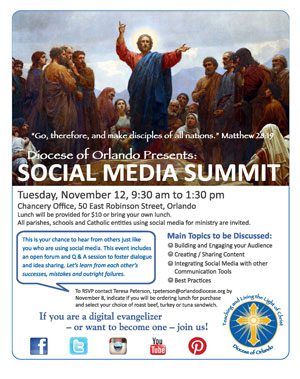 Tuesday, November 12, 9:30 am to 1:30 pm
Chancery Office
50 East Robinson Street, Orlando
Lunch will be provided for $10 or bring your own lunch.
The Diocese of Orlando presents the first ever Social Media Summit bringing together parishes, schools and Catholic entities using social media for ministry.
This is your chance to hear from others just like you who are using social media. This event includes an open forum and Q & A session to foster dialogue and idea sharing. Let's learn from each other's successes, mistakes and outright failures.
If you are a digital evangelizer – or want to become one – join us!
Main Topics to be Discussed:
Building and Engaging your Audience
Speaker: Scott Stafstrom, Communications Coordinator for Annunciation Catholic Church and owner of Compass Web Group
Scott started a Facebook page for Annunciation Catholic Church in 2011 and over 800 parishioners have "liked" the page. Scott will share strategies for building and engaging an audience and discuss case studies from other parishes that have discovered the most (and least) effective ways to evangelize via social media.
Creating / Sharing Content
Speaker: Mike Carlock, Layout/Online Editor of the Florida Catholic
Mike is a professional design and layout artist who has designed pages for the Florida Catholic for almost 10 years and is now applying his skills to create interesting content for the Florida Catholic social media sites. How does he determine what content to post and when to post? Where does he find interesting content? What content is the most shared and reposted?
Integrating Social Media with other Communication Tools
Speaker: Nicole Barnes, Advancement Associate for Communications, Bishop Moore Catholic High School
Nicole has been administering social media sites for 10 years. Bishop Moore Catholic High School has close to 2,000 fans and a popular Twitter account. How do they integrate these social media sites with their overall communications and how can widgets serve as a great integration tool?
Best Practices
Teresa Peterson, Communications Director for the Diocese of Orlando
Teresa will speak about best practices for social media that can be applied today to help us have a greater impact on our social media evangelization efforts. She will give each participant a social media style guide that will include a standardized list of tags, keywords, and hash tags that we can all use. The guide will also include a set of sample tweets and posts as a reference for style and length.
Social Media Summit Agenda:
9:30 am – 9:45 am Check In and Opening Prayer
9:45 am – 10:15 am Building and Engaging Your Audience overview
10:15 am – 10:45 am Open Forum, Q & A
10:45 am – 11:15 am Creating and Sharing Content overview
11:15 am – 11:45 am Open Forum, Q & A
11:45 am – 12:15 pm Integration overview
12:15 pm – 1:00 pm Lunch Break and Integration overview
1:00 pm – 1:30 pm Best Practices
To RSVP, contact Teresa Peterson, tpeterson@orlandodiocese.org by November 8, indicate if you will be ordering lunch for purchase and select your choice of roast beef, turkey or tuna sandwich.