ORLANDO | The memories of a mission trip to the sister diocese of San Juan de la Maguana in the Dominican Republic two years ago never left young Marlie Monserez's heart.
During that mission Monserez and her peers from Orlando's Bishop Moore High School would walk at sunrise for 45 minutes to the closest school for a day of teaching. The best part of this hike was the ever-growing entourage of children who would join them, taking their daily journey much more slowly to accommodate the Americans' pace. Some of these children had already walked for an hour from a village much farther away, but their dusty feet in worn shoes would lock in step with the teens.
"I vividly remember seeing a baby, just learning to walk, wearing shoes twice her size," Monserez recalled of the children taking the hike on the steep mountain pass. "I saw children running around in flip flops that were too small."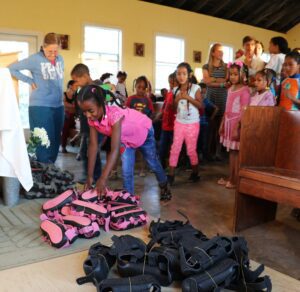 When she returned from the mission, she researched and discovered "The Shoe that Grows," an organization that created durable footwear that and grow up no five sizes and are made to last five years. After fundraising and getting donations from the company, Monserez secured hundreds of shoes for the children on the mountain.
Although she is now a college student at the University of Florida, she got the shoes to Bishop Moore in time for another group of student missionaries to deliver them.
"I felt overjoyed when I saw the pictures of the children I had bonded with wearing the shoes," Monserez said. "All that I did to raise money was for those wonderful souls, and I am entirely grateful that I was able to give back in some way. Seeing the joy in the children's faces is something I will never forget, and I thank God for making it happen."
By Amanda Livermore, Special to the Florida Catholic – February 18, 2019
Photos by Helen Chwalisz