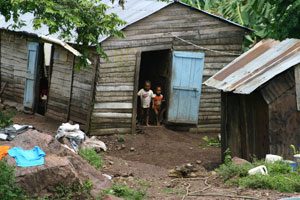 Steve Marshall of St. Margaret Mary Catholic Church in Winter Park recalls his first mission trip 13 years ago to the Diocese of San Juan de la Maguana , our sister diocese in the Dominican Republic. While stepping into one of the homes, he said he felt as if he stepped into another world.
A large cardboard box separated the sleeping from the eating area of the small, 12×15-foot mud hut. On one side a mattress lay on the dirt floor, on the other a small table with mixing bowl and spoon. Although stunned by the living conditions, Marshall said he was forever touched by the family of 10 — in particular a teenage girl who was nursing an eight-week-old baby boy — who called the hut home.
"She hands the baby to me, and as I am holding this child, I am looking at the baby Jesus," Marshall said. "I am looking face-to-face with poverty that I have never seen or experienced. I am looking at starvation. I am looking at life on the edge."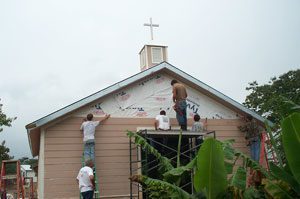 The experience had such a profound impact on Marshall that he returned to the Dominican Republic for 10 more mission trips. He was there when the family he met on his first trip moved into a new home that was made possible by the generosity of the faithful of the Diocese of Orlando. Marshall and his wife Brenda helped as well through their support of Our Catholic Appeal.
The Marshalls were among more than 700 faithful who gathered at the Basilica of the National Shrine of Mary, Queen of the Universe in Orlando on Nov. 16 to participate in the Diocese of Orlando's annual Mass of Thanksgiving, celebrated by Bishop John Noonan. The congregation was comprised of those who contributed to the diocese's Alive in Christ Capital and Endowment Campaign or made a gift to Our Catholic Appeal during the past year.
"The home gave this family a life with dignity," Marshall said. "Any missionary will tell you, if you go on a mission trip, you are there to help the people, but in reality, you are transformed by the experience. You are blessed by the experience of giving. Your gift does make a difference."
Bishop Noonan concurred.
"We are so blessed in the Diocese of Orlando and I am so grateful for each and every one of you," he said. "You have changed people's lives, and you have brought a sense of peace, hope and love into the lives of others by reaching out to those in need."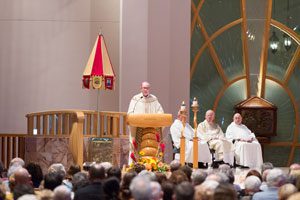 "Each of you, our brothers and sisters, give hope," he continued. "As Jesus said, the least that you do for my brothers and sisters, you do for me. We are truly responding to the needs of our people."
Amanda Livermore, assistant director of the diocesan Mission Office, said the Diocese of Orlando is able to support 15-20 mission trips each year because of the generosity of the faithful. In addition, we are hosting eight students from the Dominican Republic, who are studying at three of our Catholic high schools this year.
Robin Neel, parent of three children who graduated from St. James Cathedral School and Bishop Moore Catholic High School spoke on the importance of Catholic education and how donations to the Alive in Christ Campaign provide scholarships to those who might not be able to afford such an education.
"I have a dream that all parents who want to experience the joy of their children having a Catholic education can afford to do so," Neel said, explaining why she and her husband, Tim, give to the Alive in Christ Campaign. "I have a dream that tuition scholarships are plentiful and the Gospel message soaks into the hearts of our children."
"I had no idea that as I walked my oldest into kindergarten for the first time, that it would change the spiritual direction of our family," she continued. "Our life was changed from the popular culture of the world to a deeper understanding of Jesus' love and how we best can serve him. I believe that the love and service to God and the respect for all human beings that my children possess have a lot to do with what they learned at St. James Cathedral School and Bishop Moore Catholic High School."
Editor's Note
Thanks to the generosity of Catholics throughout the Diocese of Orlando, many dreams have become a reality.
To date, the faithful of the diocese have raised more than $13.8 million for Our Catholic Appeal in 2013.
Approximately 25 percent of gifts to Our Catholic Appeal support faith formation ministries that assist God's people to grow in love for Him.
Another 10% of gifts provide support for social outreach ministries, such as Catholic Charities, which served 6.5 million meals to the poor and the hungry in 2013.
More than $151 million has been raised for the Alive in Christ campaign to date.
Thanks to the generosity of the faithful, 70% of parishes are moving forward with Alive in Christ projects, including new construction, property renovation, and ministry expansion.
At the larger Church level, the Diocese recently awarded 20 Alive in Christ tuition scholarships for Catholic Education, and the number of scholarship awards is expected to grow in the coming years.