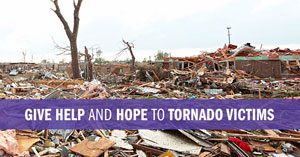 The Diocese of Orlando is joining dioceses across the country to hold a special collection this weekend, May 25-26, to help the victims devastated by the tornado in Moore, Oklahoma, outside Oklahoma City.
Bishop John Noonan has requested that the special collection be held during all Masses celebrated at the Diocese of Orlando's 93 parishes and missions in Central Florida.
Contributions received from this special diocesan collection will be directed to Catholic Charities USA (CCUSA) for use in the recovery and relief efforts. Donations will go directly towards providing families and individuals with shelter, food, and other immediate and long-term needs.
Bishop Noonan, along with many others in the nation and world, pledge prayers and support for the people of the Archdiocese of Oklahoma City, struck by tornadoes May 20.
Our hearts ache with the victims of the terrible tornado that struck the town of Moore. We pray for the consolation of all who feel this terrible loss. May all those affected by such pain feel the strength God offers them and the compassion of all who stand with them, be it in their hometown or miles away. We pray for all the people including relief service workers and others affected by this catastrophe.
Click here to donate directly.