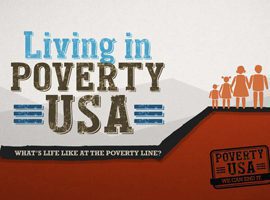 The Catholic Campaign for Human Development was mandated by the U.S. bishops to address the root causes of poverty in America through the promotion and support of community-controlled, self-help organizations and transformative education. For over 40 years, the CCHD special collection has provided funding to groups that empower individuals to break the cycle of poverty in communities across the United States. The Collection is the primary funding source for CCHD's anti-poverty grants and education programs.
Twenty five percent of the collection stays in the Diocese of Orlando for local anti-poverty projects. The Office of Advocacy and Justice of the Diocese of Orlando receives grants from the Catholic Campaign for Human Development for its outreach programming in the local communities of the Diocese.
Parishes such as Our Lady of Lourdes, Daytona Beach; St. Margaret Mary, Winter Park; Ascension, Melbourne; and Resurrection, Lakeland and others have been engaged in helping provide improved health care services to low income people, fight homelessness and assist undocumented immigrants all through the efforts of the Catholic Campaign for Human Development.
The Pastoral Solidarity Fund for the Church in Africa provides grants to finance pastoral projects that support the maintenance and growth of the Church in Africa, including outreach programs, schools, evangelization, and education of clergy and lay ministers.