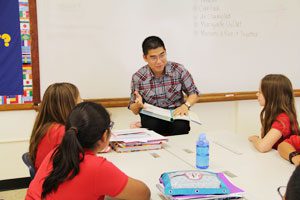 Martin Nguyen is a 24 year old Diocese of Orlando seminarian who has travelled half way across the world to be here preparing to serve God's people as a future priest.
"When I was young, my mother and I lived with my grandmother," said Nguyen, who was born in Vietnam. "She had such a deep faith in our Lord and had the greatest influence of faith on me. As a child, I knew that I wanted to be a priest."
At the age of 16, Nguyen left his homeland and his family to make a new life in the United States. While mopping the kitchen floor of a local restaurant, one of three jobs the full-time Dr. Phillips High School senior held in order to pay rent, Nguyen heard God's call again. He met with the previous Diocese of Orlando vocations director Father Miguel Gonzales and visited St. John Vianney Seminary.
"After that visit, I made up my mind and told Fr. Miguel that I wanted to give the Lord my 'yes,'" Nguyen said.
Diocese of Orlando parishes will hold a special collection Oct. 26-27 to benefit seminarians like Nguyen as they journey to the priesthood. Preparing for the Sacrament of Holy Orders is a nine-year process of intellectual, spiritual, pastoral and human formation that prepares men to answer the call they have received to serve God's people in love and humility.
The Diocese of Orlando is committed to the formation of future priests and absorbs much of the cost for seminary tuition, insurance and books, which exceeds $400,000 during the nine year-formation period. Parishioners are asked to give generously to help these faithful men, who are willing to dedicate their lives in service to the Lord's Church. Your support ensures that our seminarians receive adequate tuition assistance.
"Our faith is enriched by the life of the priests who serve them and our future priests are our seminarians. So I think in a special way we have to reach out to young people who are aspiring to the priesthood and to truly help them understand the gift they have received," said Bishop John Noonan.
"We are blessed in the Diocese of Orlando with 24 seminarians," he continued, "all of whom require financial support in order to continue the formation process that they may fully respond to the Lord's call and, as ordained priests, go forth to serve and love the people of God."
Now in his seventh year of formation, Nguyen is serving his pastoral year at St. John Vianney Parish in Orlando, where he has focused his ministry in serving the children, youth, Spanish community and the elderly. He said with the grace of God, he hopes to be ordained a priest in May 2016.
"I am a very simple guy and the Lord knows that I need help," Nguyen said. "The Lord has walked with me throughout this journey and I am very happy with this vocation. It brings me love, joy and peace. The people of God bring so much joy. Knowing that you are serving them, knowing that you are bringing the Lord to them, his peace, his consolation to the people, that is the best part of this journey."