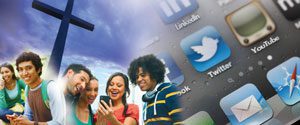 Parishes throughout the Diocese of Orlando will take up a special collection May 10-11 to support the U.S. Conference of Catholic Bishop's Catholic Communications Campaign (CCC). This collection communicates the Gospel through Catholic social media activities and enriches people's faith through Internet, television, radio, and print media. This year, the campaign focuses on new ways to bring the gospel to wherever people are.
Half of all proceeds from the collection remain in our diocese, allowing us to share our experience of faith, worship, and witness with the world through various communication projects. The remainder is used by the USCCB to fund grants for media projects.
According to the USCCB, the CCC is a way that each of us can follow the call to enter into the world of new media and digital networks. Pope Francis emphasized the importance of this endeavor during his first audience with members of the media on March 16, 2013, when he said, "Be assured that the Church, for her part, highly esteems your important work."
The Pope has given us an example of witnessing through new media by his tweets and daily homilies.