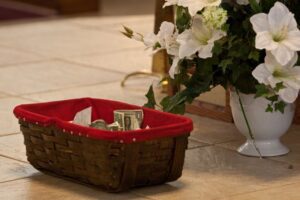 Special Collections will be taken on the weekend of March 4 and 5 to support humanitarian assistance to countries experiencing disaster, drought, war and extreme poverty; the evangelization of people of Central Eastern Europe and the Propagation of the Faith (World Mission Sunday) to support people in mission dioceses around the world.
Through support of the Catholic Relief Services Collection, funding is provided for Catholic Relief Services; USCCB Office of International Justice and Peace, Migration and Refugee Services, and Pastoral Care for Migrants and Refugees; relief work of the Holy Father; and the Catholic Legal Immigration Network. Funds from this collection help provide food to the hungry, support to displaced refugees, and Christ's love and respect to all people here at home and abroad.
The Collection for the Church in Central and Eastern Europe supports the Church in over 20 countries, many of which are still struggling to recover in the aftermath of Soviet rule. Funds from this collection support pastoral care, catechesis, building renovations, and seminary formation. The support of parishioners restores the Church and builds the future in this region.
The Society for the Propagation of the Faith, supported by the World Mission Sunday Collection, is vital to the missionaries serving in 1,111 dioceses throughout Asia, Africa, parts of Latin America and Europe, and on the Islands of the Pacific. The collection makes it possible for local priests, religious, and catechists to reach out to communities, families and children in desperate need, bringing the light of Christ to the darkest of circumstances.