MELBOURNE | "Our daddy is our hero! He has been flying medical workers and supplies to states in need," chimed Nicholas and Gavin, two Ascension Catholic School students on the second day of School Spirit Week. The day set aside to honor real life heroes was a huge success.
"As distance learning was entering the third week, we knew the newness of it all has worn off," recognized Anita Brady, Ascension's principal. "We thought a virtual spirit week would be a fun, easy way to help keep students excited and give them something to look forward to each day. Focusing on real life heroes was a good way to encourage them to think about and pray for those who are taking risks to help us all while we work together to stay safe."
On Super Hero Day, students sent in photos of family members who are nurses, doctors, police officers, fire fighters, pilots or grocery store workers. Photos posted with prayers of safekeeping and thanksgiving appeared on the school's Facebook page. Second-graders prayed for community heroes and were called to be heroes at home. Encouraged to dress up, they thought of ways to display their powers – through extra chores or doing homework without being asked. The lesson: "Acting like Jesus, spreading God's word, and being a peacemaker in your home makes you a hero!" stated the assignment.
Terri Baldree, the school's media specialist, helped plan the week's events. "We discussed a Virtual Spirit Week early in our distance learning journey," she explained. With technology teacher, Laura Davis, the two came up with a final list. "We wanted the activities to be fairly simple for families and students–and not require any trips outside the home." She added, "Super Hero Day was very special and humbling because we know so many families are sacrificing more than just the act of staying safe at home."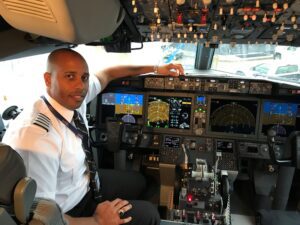 One of those family members is Kai Snead, a pilot for Southwest Airlines. He flies a 737 aircraft that seats 175 people. Now, "If there are more than 10 people, that's a lot," he said. As Southwest reduces daily flights from 4,000 to 1,500, pilots' hours have also been cut. Despite that, Snead said his children ask him not to fly. "They worry. They want me to come back without getting sick." He had a crew member recently test positive for the virus, so the concern is real. "Daddy, don't go to work anymore," they tell him. His response is, "God is in control."
During Spirit Week, his 8th grade daughter and son, who is in pre-k4, submitted his name and photo, listing him as one of their heroes for flying medical supplies to needy areas. He humbly says, "There's not a whole lot to it. I just went to work one day and they just happened to be there." Snead says the airline often flies cargo to and from locations. These days, he is seeing more medical supplies than usual. Most recently, he flew supplies to Long Island and Tampa. The pilot covers various routes and notes, "We had zero passengers on the way to Long Island and three on the way back. … It's hard to wrap my mind about what's going on," he admits. The greetings have changed from hugs and handshakes to formal nods from an appropriate distance. The awareness of contagion fills the air with a palpable tension. "You walk in and it's a ghost town and you have a handful of passengers, if that. But they need to get where they're going for a reason," he said. "It does feel good that I'm still working, getting things where they need to be indirectly, to help get this thing eradicated."
With an erratic schedule, Snead says coming together at least once a week to, "sit at the table; read Scripture, pray and offer our intentions," helps allay fears and refocus.
His 4-year-old son in pre-k misses his friends and his 8th grade daughter is sad about missing her graduation, but remains focused on her studies. His eldest daughter in high school misses the socialization. "This is not normal and it doesn't feel good, but I look at the positive side," he said. He is grateful to be working and knowing he is helping in some small way is gratifying.
By Glenda Meekins of the Florida Catholic April 20, 2020