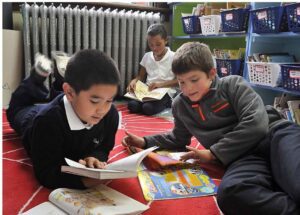 As society becomes increasingly diverse and advancing technologies bring the world to our fingertips, students at St. John Vianney Catholic School in Orlando are being uniquely prepared to excel in this multicultural environment. Beginning in the 2017-2018 academic year, the school will become a Two-Way Immersion Network for Catholic Schools (TWIN-CS), otherwise known as dual language institution, teaching students to be fluent in English and Spanish from the PreK level.
It is the first in the Diocese of Orlando, the second in the state of Florida, and among nearly 20 other Catholic schools nationwide to embrace the TWIN-CS education model, an initiative of the Roche Center for Catholic Education at Boston College. Designed to transform a school from monolingual to bilingual, the program has three goals: academic excellence, bilingualism, and cultural competence. The program is an expansion of the school's Catholic mission to teach each child in a holistic manner that affirms their dignity as children of God.
"We are already providing quality education in a Christian centered environment, as we strengthen the children's faith in Jesus Christ," said Father Miguel Gonzalez, St. John Vianney pastor. "By establishing a dual language program we are adding to our already strong academic setting. We are offering a program that will enhance their English skills, while allowing them to learn a new language that will be a strong asset as they enter a competitive professional world in the future."
Starting in the fall, PreK4 students at St. John Vianney will receive classroom instruction divided equally between Spanish and English. The program will grow as students move to the next grade level. Classes will have a balance of native English and Spanish students and will be taught by native Spanish-speaking and English-speaking teachers. Each will teach language arts in their native language, while mathematics will be taught in English, and science and social studies in Spanish.
"By fifth grade, the expectations are that the English and Spanish speaker students have acquired an advanced level of proficiency in a second language and have fully developed their primary language," explained Principal Cathy Marshall, adding that it takes five to six years to truly master a language.
In middle school, students "refine" their skills through content classes in Spanish or through literature and grammar. By eighth grade, they are most likely to test out of high school Spanish classes and are often prepared to take the Advanced Placement tests in Spanish.
Proponents of this educational model say the dual language program will give St. John Vianney students an advantage as they graduate and explore career opportunities. Most citizens of modern countries are fluent in more than one language. Experts believe that children need the advantage of bilingualism if they are to compete in the job market in the near future. Furthermore, this new program reflects a long-standing Catholic tradition of serving multicultural communities.
"St. John Vianney is reflective of our greater society and of our world," said Henry Fortier, secretary for Education and superintendent of Catholic Schools for the diocese. "It is a very diverse and multicultural school.  Catholic parishes and schools were created in the 1800s to serve the immigrant populations. In that process we had Italian parishes; we had French parishes; we had Portuguese parishes; we had parishes of every possible ethnic group. With them came the sisters of the communities who spoke the languages."
Bishop John Noonan supports this educational model because it reflects our commitment to being Catholic, which means universal.
"No matter what language people speak or what culture they come from, we all share a common bond and that is we are all children of God," he continued. "We need to be open to the gifts we can give to each other."
St. Mary Magdalen Catholic School in San Antonio, TX is a prime example of the way a dual language school is a gift to students of both cultures.  A TWIN-CS school since 2013, the initial change was challenging, but after seeing the benefits gained over three years, school families have embraced the program.  Children now speak, sing and pray in another language together with their peers.
With the first class now in second grade, Principal William Dailey said he has noticed significant changes in the way the students think and in their confidence when it comes to linguistic skills. Additionally, the school grew to serve more students because parents recognized the benefits. The school, once with an enrollment of 98, now nears 400 students coming from 60 zip code areas. Plus, the program has attracted a high caliber of teachers with a passion to teach.
"This is a rigorous program," Dailey said. "But struggle is good. In the end, students will develop a long-term, deep understanding of linguistics and superior cognitive abilities."
At St. John Vianney, Marshall is looking forward to the changes being a TWIN-CS school will bring to their community and is confident in her students' ability to thrive in the new learning environment.
"Through this program, we will experience the richness of other people's cultures, the richness of their lives, the sharing of our faith with one another," said Marshall. "I am excited about the children fully being able to be a catalyst to change the world. We can't change the whole world, but we can make a difference here."