BOYNTON BEACH | "You are 13 shining rays of light for us in the midst of the current darkness. You give us great hope in these challenging times," said Monsignor David Toups, rector and president of St. Vincent de Paul Regional Seminary in Boynton Beach, April 25. The day was not what was imagined for the 13 men from dioceses throughout the state ordained to the Order of Presbyter, or deacons. No family was physically present. They would not head to home parishes to celebrate with parishioners. Their 30-day Ignatian retreat would have to wait.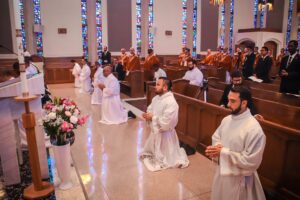 Among the ordinandi were three seminarians from the Diocese of Orlando– Robert Marquez of Blessed Sacrament in Clermont, Nathanael Soliven of St. Joseph Parish in Lakeland, and Francisco Ojeda from Our Lady of the Lakes in Deltona.
"I just never thought it would be this way… The world definitely has changed in the last few months. It's a different set of circumstances we're living in," said Soliven of the Ordination just two days earlier. "I have accepted it and am at peace with it," he added, noting it was St. Teresa of Avila's famous poem, "Nada Te Turbe" (Let Nothing Disturb You) that assured him. The poem's message ran as an undercurrent throughout the ordination liturgy. "Let nothing disturb you, Let nothing frighten you… God never changes… He who has God finds he lacks nothing. God alone suffices."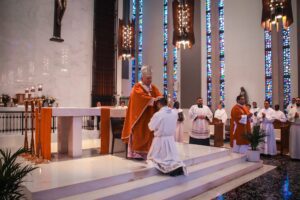 Archbishop of Miami Thomas Wenski called to mind the unique events that surrounded this Ordination. He said, "As deacons ordained during this twin crisis of the Coronavirus pandemic and a global economic disaster, you will exercise your pastoral ministry as a new and yet uncertain 'normal' emergence—one that will most likely still involve continued social distancing, self-isolation for the vulnerable and possibly continued contagion that will sicken and kill. Also, an increase in poverty and the ills associated with it." He added, "Neither you nor I were prepared for such a new normal. This pandemic is teaching us that we are not in charge of our lives as we sometimes pretend to be." He said he hoped the experience had made everyone more humble and "more receptive to God's grace – for only humility makes it possible for us to respond to God's will as Mary did."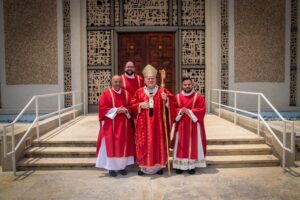 It is with that humbleness of heart that the seminarians approached the extraordinary day. "I know that it's a way for me to really be in solidarity to the world which I am going to serve as a deacon," Soliven said. "This little change of plans, where the family cannot come, is a little sacrifice. I know a lot of people are suffering in different ways – economically, sick family members, in this pandemic. This is my sacrifice and way of being one with the people." Of the three Diocese of Orlando seminarians, Soliven awaited the day the longest – 13 years, since he entered the seminary at age 12 in the Philippines.  He said, "For me, during all these changes, the prayer of St. Teresa of Avila, just keeps coming back … Again and again, the Lord is saying, 'Nada te turbe. Nada te espante. Solo Dios basta (Let nothing disturb you. Let nothing frighten you. God suffices).'"
Francisco Ojeda had a similar experience. "When I learned about it (that family would be unable to attend), I had mixed feelings. It's been six years preparing for the priesthood." He said he had to let go of expectations. "It was humbling. It reminds me I need to rely more on Jesus and trust His plan instead of mine. It's been a constant reminder to trust in Him…, knowing that is what He wants at this moment." He would later comment, "Even though the chapel 'seemed' empty without family and friends, it was not. You could feel everyone praying with you."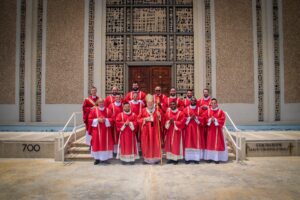 It was when he was at his lowest, one year in college, that Ojeda felt God tug at his heart. His father had been a seminarian, so the idea was now new, but this was different. "It was when I felt the lowest that Lord loved me the most," he said. "I realized that wherever I went, He would be with me to guide, protect and love me. That love was inspiring to serve Him in any way." That love continues to carry him. Even as he looks ahead, uncertain of what the future may bring. He knows his practices as a deacon will be different because of the period into which he is ordained. What bolsters him onward is "the love of Jesus". "Realizing His love, even in those moments when it seems like everything is falling apart, that He's still there loving and caring… I think He is calling me to share that, even when it's not felt or seen explicitly." That is what he hopes to share with parishioners, even if they are not sitting in the pews.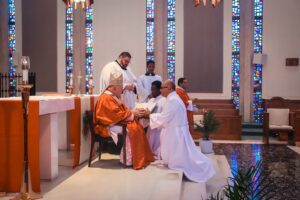 Archbishop Wenski noted in his homily, "You are ordained to be a sign and instrument of Christ, who came not to be served, but to serve." He explained the word diaconia means service – service of the Word, of the Eucharist, and of the poor. Roberto Marquez looks forward to fulfilling them. The eldest of the three, he came to his vocation late in life- in his mid 40s.
Calling this Ordination "anything but ordinary", he said. "This is it. You're getting committed. Priesthood is what comes after, but we really shouldn't be seeing this as a step." He added, "We need to take advantage and appreciate what this year as deacons has to offer us and learn from it. We need to experience it, with God's help. Let's take advantage of this moment and this time." He said, before seminary, he always thought of the past and the future. "In seminary, I learned to nourish and live for today and embrace it – celebrating your first wedding, your first Baptism." He looks forward to sharing his faith in this way. It is as a teacher of faith formation at Blessed Sacrament, that he became keenly aware of his desire to be a priest. "Working with the adults and youth, listening to their stories and sharing my stories and experiences and faith in Christ, was an important part in the process," he said.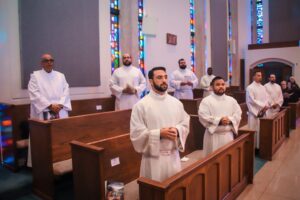 Singing Veni Sancte Spiritus, the sobering male choir accompanied the gentle strumming of a single guitar, as the ordinandi came forward, three at a time. Irrepressible joy showed in their faces as the priests approached to clothe the new deacons in their vestments – a red stole and dalmatic – outward signs of their new mission of service. Then Archbishop Wenski handed on the Book of the Gospels saying, "Receive the Gospel of Christ whose herald you have become. Believe what you read. Teach what you believe and practice what you teach."
During the Post-Communion meditation, Orlando seminarian Alex Feliciano sang St. Teresa of Avila's poem. As Soliven prayed, he wiped tears from his eyes. "I just felt the Lord talking to me and assuring me, not only in these uncertain times, but also in my life now, as an ordained minister: 'Let nothing disturb you. Let nothing frighten you. As long as you have me, you will lack nothing. I alone suffice."
By Glenda Meekins of the Florida Catholic April 28, 2020