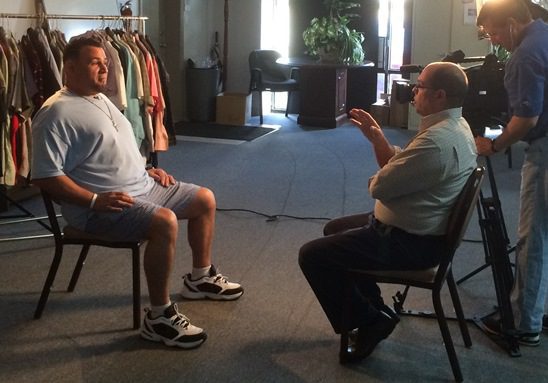 By GLENDA MEEKINS
Trace Trylko, Executive Director, Orlando for the St. Vincent de Paul Society (SVdP) does not believe in coincidences. So when National CEO of SVdP asked him to produce a special entitled "Our Faith in Action: Today's Society of St. Vincent de Paul," for the Eternal Word Television Network (EWTN), he was not surprised. Having previously worked as a TV producer, the journey to this point of his life was God inspired.
Ten years ago, Trace Tylko lost his mother to a rare form of cancer. In the throws of mourning her loss and feeling that he wanted to give something back, out of gratitude for the generous care she had received, he looked up the number to Hospice, picked up the phone to call and stood there. "My hand kind of shook," recalled Trylko. He realized this type of ministry wouldn't be a good fit for him.
Then, at morning Mass at his parish, All Souls Parish in Sanford, he saw a blurb about St. Vincent de Paul (SVdP) Society, which has approximately 1,500 members throughout the Diocese of Orlando. Familiar with the organization, as his grandmother had volunteered there for many years and his mother would go to the SVdP thrift shops hunting for treasures, he thought he would check them out. "So I went to that meeting that night at all Soul's and I felt that pull and everything aligned. That charism of putting your faith into action…That really appealed to me to have that direct person to person contact." Five years later, he was offered the job as their first ever Executive Director in Orlando.
By the time Trylko came to serve as executive director, he had long left behind the world of television news and radio. The UCF graduate had worked as a news director and sports editor for UCF, a producer for Channel 2 in Orlando, an on-air reporter at TV 20 in Gainesville and an investigative reporter in Alabama. But in 2001, he gave it all up and went into marketing "because of the grind of local news," he said.
"To find myself with the ability to telling uplifting stories is amazing. These are really positive stories that you're not going to see anywhere else in a television situation," said Trylko.
Trylko, who wrote the special and serves as reporter for the segment on Orlando's Jail and Prison Ministry of St. Peter Claver in Apopka, says he and his team have been working on the episode since March. EWTN agreed to run the show as a pilot and has asked Trylko to come up with 12 more episodes.
"EWTN is pleased to premiere this special program highlighting the Society of Saint Vincent de Paul's corporal works of mercy in this Year of Mercy," said EWTN Chairman and Chief Executive Officer Michael P. Warsaw. "As the Society's members reach out to the homeless, returning citizens, and a family in need, they are changed spiritually. By providing a global audience for this program, I hope that EWTN's viewers will also find themselves spiritually uplifted and challenged to live the Works of Mercy in even more fruitful ways."
The special will air August 16 at 6:30 p.m. on EWTN.
If all goes well, in the spring 2017 season, the program will profile the Tutoring Center established by the Conference at Annunciation Catholic Church in Altamonte Springs.
"I feel like there is no accident," added Trylko. "Maybe that's my contribution that someone will want to be a part of SVdP because of it."
The Society of St. Vincent de Paul is an international, nonprofit, Catholic lay organization of about 800,000 men and women who voluntarily join together to grow spiritually by offering person-to-person service to the needy and suffering in 150 countries on five continents. SVdP offers a variety of programs and services, including home visits, housing assistance, disaster relief, education and mentoring, food pantries, dining halls, clothing, assistance with transportation, prescription medication, and rent and utility costs.
How to Watch
Click here to find the EWTN station in your zip code: http://bit.ly/1lP3bmo
To check the EWTN program schedule, click http://bit.ly/1PuGBxa
For a sneak peek of the SVdP special, click here: http://bit.ly/2aLt7BR