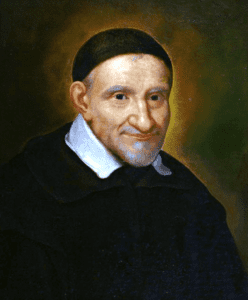 St. Vincent de Paul,
Feast Day: Sept. 27
St. Vincent de Paul reminds us of the corporal acts of mercy to feed the hungry, give drink to the thirsty, shelter the homeless, visit the sick, visit the prisoners and give alms to the poor.
St. Vincent de Paul was born in France in 1581, the third of six children born to peasant farmers. When he was 15, his father sent him to the seminary and paid for it by selling the family's oxen. He was ordained a priest at the age of 19.
In 1612 he became a chaplain and tutor to the Gondi family. In preaching to the peasants on the estate, he realized he should direct his vocation to the poor. In 1617, Vincent founded the "Ladies of Charity" from among a group of women in his parish. He directed these wealthy women to collect money for missionary projects, hospitals, relief funds for victims of war and to ransom 1,200 galley slaves from North Africa. With the help of St. Louise de Marillac, this group would come to be known as the Daughters of Charity of Saint Vincent de Paul. He also founded an order of priests, the Vincentians, whose work was solely devoted to those living in small towns and villages.
Vincent himself always insisted, "The main purpose for which God has called us is to love our Lord Jesus Christ. If we depart even slightly from the thought that the poor are members of Jesus Christ, infallibly they will diminish the sweetness and charity within us."
How do we become more like St. Vincent de Paul?
Many parishes have St. Vincent de Paul societies. Members work tirelessly to help the poor by collecting food, paying rent and utilities, and finding adequate housing for those in need.  For information on how you can get involved with the St. Vincent de Paul Society, consult your parish or visit www.svdporlando.org/