ORLANDO | The line of people wrapped around most of the building when Gary Tester, president of Catholic Charities of Central Florida (CCCF) arrived to work March 25. The rush to the Semoran Mission Market came after Orange County's mayor announced an executive stay-at-home order that begins at 11 p.m., Thursday, March 26.
"Normally we have no lines," noted Tester as he walked alongside clusters of people, thanking clients for their patience and asking them to maintain social distancing. As he arrived at the market, Juan Vega, pantry coordinator, communicated with staff at the front of the line and asked them to keep the people moving. Next to him more volunteers in masks and gloves busily gathered bags of food and handed them out. "We're trying to keep what we can provide meaningful – a couple of days of food, 15 pounds of dry groceries, fresh produce and some bakery goods," said Vega. Still, he knew the 200 bags they had prepared for the day would go quickly. Thanks to a recent donation from the Church of Jesus Christ of Latter Day Saints (LDS) the Semoran and Rosemont markets had an ample supply of butter, cheese and non-perishables that helped meet the tremendous demand.
Jouvanny Osorio and his wife, Jenybell, visited the market for the first time. Jouvanny was recently laid off by an airline due to the reduced demand from travel restrictions. His wife is still working, but they have two young children at home. "We came out of need and this issue of the virus," he said. He saw a Facebook post and made a point of getting to the market. He said faith and prayer are getting them through.
Ana Almonte is familiar with the mission market, having come a few times before in dire need. Recently diagnosed with breast cancer, she will have surgery on March 30 and is preparing in light of the stay-at-home order. She juggled her bags, placed them under a shady tree, then called her husband to pick her up. He, too, recently had surgery, making him unable to work and with three other family members at home, the couple is feeling the pressure. "They help people so much here, so I thought I would come," she said. Almonte finds solace in online Mass and prays her husband can receive social security soon. The two had come from a nearby store during special shopping hours for the elderly, but she said the shelves were empty.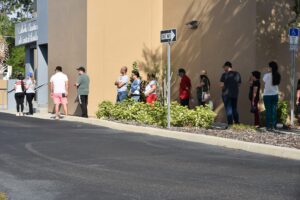 Because the provision of food is an essential service, the Semoran market and the Rosemont market will both continue to be open with hours flexing to meet demand while being mindful of changing factors. Talking about the increase in demand, Tester said, "We can't take food donations because of potential contamination with the virus. We can't do a food drive because health officials say the virus stays on metal and plastic for three days. Cardboard is porous. We are working closely with Second Harvest and have a food drop in Northwest Orlando on Saturday, March 28 and will have weekly food drops starting next week." He noted the Grocer's Alliance, a CCCF partner, also tapered off food availability. Adding, "Normally we would pick up two to three pallets a day from our Grocery Alliance Stores. Yesterday we picked up six small boxes." He said prayers and cash donations to the Central Florida Catholic Mercy fund are the best ways people can help. He added, "Please pray for the people coming for food."
As the hours for both the Semoran and Rosemont markets ended that day, more 500 households had been served, a one-day record. The average distribution between both markets for a day is between 140 – 160 households.
Donations can be made online at cfocf.org/mercyfund
By Glenda Meekins of the Florida Catholic March 25, 2020