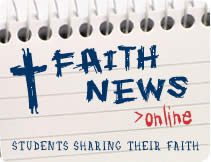 Students throughout the Diocese of Orlando are giving witness to the people, places and events that are having an impact on their spiritual growth and education by submitting articles and photos to Faith News Online.
This week, Delaney, a 7th grade student at Sacred Heart Catholic School in New Smyrna Beach, writes about her school's celebration of All Saint's Day during Mass and a live museum exhibit. At St. Paul's Catholic School in Leesburg, 8th grade student Micah writes about the sports equipment drive and fundraiser held at the school to benefit the boys and girls in our Sister Diocese in the Dominican Republic.
Other recent articles include a ministry fair, a parish festival and one student's first-hand account of visiting a cathedral in London, England.
More than 80 students representing 17 schools serve as Ace Reporters.
To learn more about what is happening in the faith journeys and education of our youth, visit www.orlandodiocese.org/faithnews.