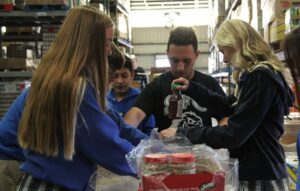 To kick off Catholic Schools Week, celebrated nationally Jan. 29 – Feb. 4, Polk County Schools emphasized one of the unique aspects of being a Catholic school: service to the poor. It was a brisk morning on Jan. 30 when 25 students from five Polk County Catholic schools gathered in the Agape Food Bank's 20,000 square foot warehouse in Lakeland to sort food and pack bags for families in need.
Jessica Bruchey, principal of St. Joseph Academy, Lakeland said, "We want the kids to realize that not everyone is as fortunate as they are and to give back to the community they serve." Bruchey said the food the students packed "… will actually go to other students within our county, to kids their age. It's a great service project for them to do."
Agape is a program of Catholic Charities of Central Florida. Ken White, senior operations manager at the food bank, said he was grateful for the students help. "You cannot efficiently run an operation like Agape without volunteers," said White. "Volunteers are essential to everything we do. Having the kids come in as they did today allows us to sort donated food that we get from 70 different locations throughout the county like Publix, Winn Dixie, Walmart and others. So having volunteers come in is a blessing," he added.
Agape, which is a part of the Feeding America Food Bank network and Feeding Florida, is the distribution center for 160 member agencies (mostly church food pantries) in Polk, Highlands, and Hardee counties. White has high hopes. His goal this year is to distribute between 9 and 10 million pounds of food for all three counties, with the majority remaining in Polk.
Claudia, an 8th grade student at St. Joseph Catholic School, Winter Haven, referred to the experience as "eye-opening."
"I never really realized how much hunger there really was," she said. "This was a realization and it hit me. It makes me want to help a lot more when I'm older."
And that was the desire of Bethany McBride, campus minister and theology teacher at Santa Fe Catholic High School, Lakeland. She noted, "We are called to live out the corporal and spiritual works of mercy. The corporal works of mercy are more tangible, especially this year after celebrating an entire Year of Mercy.  In our culture today, all these things are being thrown at them. I think they need to continue to do God's work tangibly. A lot of students depend on this food."
McBride was referring to the Smile Pak program which, according to Donya Frazier, Agape's volunteer community relations manager, provides supplementary food and weekend lunches to 900 children in 21 public schools. In the tri-county area, over 70% of public school students are eligible for free and reduced lunch. She hopes to increase assistance to 1,000 children this year. Volunteers help make that a reality.
The students understood their impact.  Hannah, an 8 grade student at St. Anthony Catholic School in Lakeland said, "Our parents provide so much for us and so we give back. It's a privilege and an honor to give back to people who might not get as much as we do."
Santa Fe Catholic High School senior, Anthony, summed the morning up well: "I love that attending Santa Fe has given me this opportunity. It puts everything in perspective. How blessed I am."