MELBOURNE/ORLANDO | "Be kind and compassionate to one another," (Eph. 4:32) read a card with hand drawn flowers. It was attached to a pair of cozy socks being sent to Century Oaks Assisted Living in Melbourne. Hannah, a 9th-grader at Melbourne Central Catholic High School joined Key Club because she enjoys service to others. The card was one of 30 completed as part of a service project for the organization. "It was very important to me as a Christian to reach out to others with Christ's love during the quarantine for the coronavirus and hopefully help others keep a positive attitude," Hannah said. The gifted artist illustrated flowers and landscapes adding one of four different bible verses to offer hope and comfort.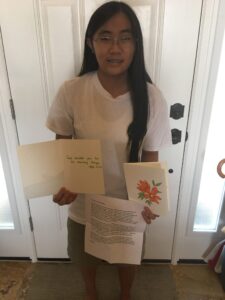 Lucky recipients read Scripture from Eph. 2:10 and 4:32, Isaiah 58:11, and Romans 15:13. Hannah said Eph. 4:32 was her favorite. "While the verse is simple, it is a wonderful motto to live by – especially when under the stress of being quarantined." The Key Club freshman class director also made cards for Ronald McDonald House, adding animals to the mix.
Rita Herschbach, English teacher and Key Club faculty adviser noted, "As Key Club adviser, I am so proud that all our Key Club members realize service is a core value of Catholic education: caring for God's creations who are less fortunate than us."
Fourth and fifth grade Junior Girl Scouts at St. James Cathedral School in Orlando could not agree more. To earn the Bronze Award, the highest honor a Junior Girl Scout can achieve, nine girls from Troop 161 worked on a project that served the community. These students created 75 pieces of artwork for the residents of Palmetto Landing, an assisted living and memory care center for seniors in Winter Springs. Canvas paintings, origami tulips in vases, large paper flowers and some 3-D art accompanied letters that now grace the rooms of residents, lifting spirits of those shut in.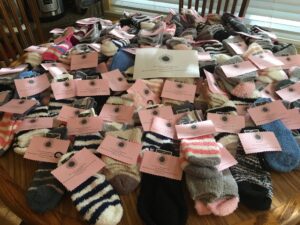 Troop leader, Janet Riehl, noted one of the Catholic values the girls focused on was treating their neighbors as they wish to be treated. "I am so proud of the hard work these girls have done in completing the Bronze Award. They took a very stressful situation and time of their life and developed an idea, and sought out the resources needed. The hours spent on this project reinforced St. James Cathedral School's motto of 'Come to Learn and Leave to Serve'."
By Glenda Meekins of the Florida Catholic May 6, 2020