May is the month of Mary. Some Catholics throughout the world commit to praying the rosary each day, others crown Mary and lead processions to honor the Mother of God, our mother.
On May 3, students from Lourdes Academy, Daytona Beach gathered in a procession to the beach. Students in grades 2-8 carried a statue of Mary (via police escort) and carried flags and banners, concluding in a prayer service for Our Lady. Lourdes Academy has led the procession to the beach for several years, particularly to ask Mary's protection during hurricanes, due to the school's proximity to the ocean.
Principal Stephen Dole explained, "In the past two years, two major hurricanes have had negative impacts on the local community, especially the poor and vulnerable… students and parishioners believe that through this procession to the beach, Mary's intercession was successful in guiding last year's storm further off the coast and away from the local area where devastation could have been much worse."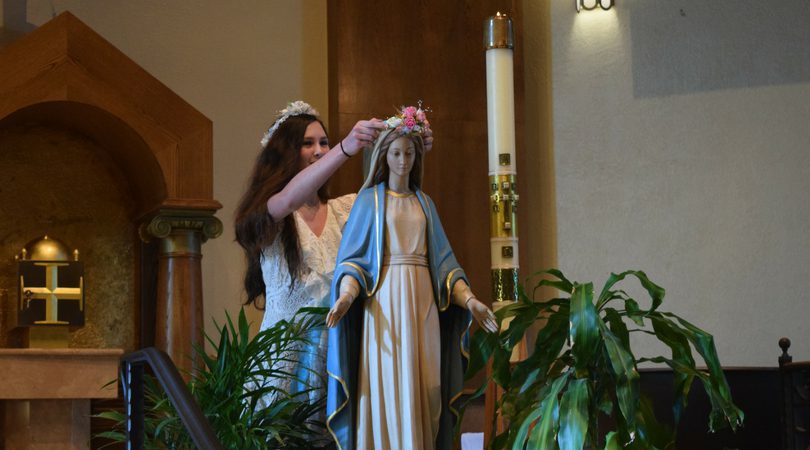 Blessed Trinity Catholic School in Ocala asked eighth-graders to participate in a writing contest about Mary. Students submitted journal entries, poems, essays and personal writings. The winner gets the honor of crowning Mary during Mass. This year the privilege went to Olivia F., for her essay "Gardenias" which refers to her relationship with the Virgin Mary. The gardenia has been part of her life since she began to walk. She describes it, and her relationship as, "A gentle bud that flourished in new light of Mary's grace and guidance, into a smooth, white, dream."
Good Shepherd Catholic School in Orlando also chose to honor the Queen of Heaven by placing a crown of white roses and ribbons on her head, May 16. Each year teachers and administrators select two female students who reflect the character and qualities of Our Lady. This year they were Olivia P. and Valentina S. The students are chosen based on their qualities of grace, obedience, piety, virtuosity, humility, faithfulness, courage and trust in God.
Additionally, throughout the month, classes pray the rosary, with pre-k through third grade forming a living rosary. Principal Jayme Hartmann shared, "Throughout campus, bulletin boards and walls are also adorned with posters, activities and assignments that are reflections on how Mary impacts our lives."
By Glenda Meekins of the Florida Catholic – May 15, 2018