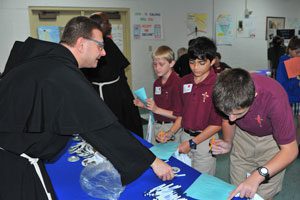 As priests and religious sisters and brothers told their vocation stories, Good Shepherd Catholic School sixth-grader Ryleigh listened intently. Before attending the annual Focus 11 event, she said she had a good idea of what vocations meant. Picture: Father David Kaczmarek, T.O.R. assists the students.
By the end of the day, she said she had learned so much more. "I learned that they had different kinds of hobbies," she said. "I enjoyed getting to know some of the priests and nuns, and hear how they live their lives each day."
Ryleigh was among more than 1,600 students from Diocese of Orlando schools who participated in Focus 11, a fun-filled educational experience in which 11-year-olds (sixth-graders) and 11th-graders (high school juniors) learn more about vocations and how God is calling them in their lives. The event was held Feb. 24-26 at Holy Family Catholic Church.
Each day began with Mass, celebrated by Bishop John Noonan. He emphasized that Catholic vocations means many things.
"It's focused basically on your faith in Jesus Christ," Bishop Noonan said. "There are vocations to married life, priesthood, sister, brother, deacon, single life. Our main focus is to ask the students to truly commit themselves to their faith, so they can at least have a solid foundation the rest of their lives."
Following Mass, Bishop Noonan introduced a number of seminarians and priests, who shared the stories of how God called them to priesthood. Students visited displays about religious communities and listened to a number of keynote speakers. There was also a panel discussion, in which priests and religious sisters and brothers answered questions relating to their hobbies; favorite part of religious life; if they had pets; if they had any regrets; and why they joined a religious community.
"They are normal people," Ryleigh said.
Father Jorge Torres, director of the Office of Vocations, said Focus 11 is presented to students when they are 11 years old or in the 11th grade, because research shows young people typically make important life decisions during those ages. He said the goal is for students to know their options.
"We're not trying to push them in any particular direction; we just want them to know that the Lord is inviting them to consider with him where this vocation will take place, so that they can be truly fulfilled," Father Torres said.
But students don't have to be sixth-graders or high school juniors to decide what they want to do. Ryleigh said she learned that God's calling could happen at any age.
"It doesn't have to start early in life, and you don't have to decide one day that you're going to become a priest or a nun," she said. "God calls you to it."
This is the sixth year that Focus 11 has been a program of the Diocese of Orlando Office of Vocations. Father Torres said he and others are starting to see the effects the program has had throughout several years. This year's high school juniors were among the first group to participate in the program as sixth-graders.
"For those 11th-graders we had, speaking to them about vocations is something that is very natural, very at-home," Father Torres said. "I went up to two of them to invite them to a teen discernment group, and right away they said yes. I went up to another two and invited them to the seminary because they took part in our Quo Vadis retreat last summer, and right away they said yes. It was so natural to have that conversation."
Father Torres said students participating in Focus 11 should take away many things from the program.
"The take-away would be that we're very happy, and are enjoying our lives, and that this can actually be seen as a positive," he said. "A lot of times, when people consider vocations, they see the negative, something that somebody has given up. They rarely mention all the positive things that they are receiving, and today we want all of them to see the positive things."